---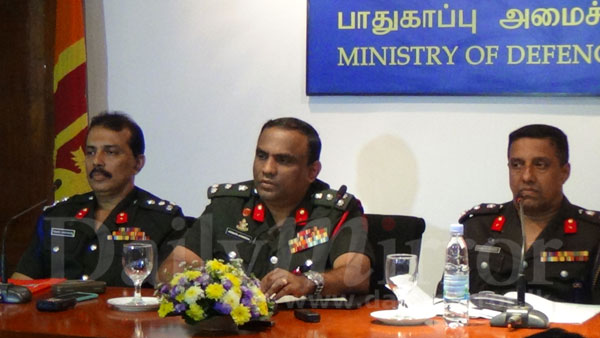 Ministry of Defence (MOD) said today that they were in the process of introducing a pension scheme for retired disabled tri-force members and police personnel but said an exact time frame cannot be revealed at this level.
A group of retired disabled military and police personnel launched a protest on Monday (25) urging the President to intervene in the proposed pension scheme.
"Procedure to introduce the pension scheme could take some time. However, we hope to resolve the issue as soon as possible and the President too had directed us to find immediate solution to the issue," Public relation officer to the Defence Secretary Brigadier Prasanna Chandrasekara said.
He said the MOD in collaboration with the Pension Department, tri-forces and the Finance Ministry had finalised the mechanism to resolve the issue.
He said they have found solutions to 17 out of 20 requests of the protesters and solutions to the remaining three requests which were delayed because it needed intervention of other authorities including the Finance Ministry.
Meanwhile, Brigadier Sanath Perera said retired disabled military and police personnel who have not completed 10 and 12 years service were not entitled to the pension but a special monthly allowance were receiving when they turn 55 years.
He said nearly 4,000 retired disabled military and police personnel who have not completed their service were not receiving the pension after age 55.
Military Spokesmen Brigadier Jayanath Jayaweera, Navy Spokesman Captain Akram Alavi and Air Force Spokesman Group Captain Chandima Alwis participated at the media briefing held at the MOD media centre today.
However, following the response of the Ministry and the President, the protesters called off their demonstration held outside the Fort Railway Station today. (Darshana Sanjeewa)
Video by Darshana Sanjeewa