---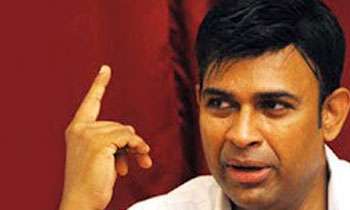 UNPers such as Sajith Premadasa and Navin Dissanayake should be allowed to play a major role in running the party, Deputy Minister Ranjan Ramanayake said today.
"Members like Sajith and Navin should be allowed to bat now that Mr. Wickremesinghe had got several chances to bat for the party," he said using cricketing jargon at a media briefing last morning. "Mr. Wickremesinghe batted in 2002 and got a century. He batted again in 2004 and got out. In 2010 and 2015 the UNP imported players such as Sarath Fonseka and Maithripala Sirisena. Now it is time for the others to be given a chance to bat."
The deputy minister said this while pointing out that Sri Lanka Cricket Chairman Thilanga Sumathiapala should not contest for a second term and give someone else the chance to run the cricket Board and that what applies to the SLC chief must apply to party leaders as well.
"As an actor, who is growing old, I am hoping to stop playing the lover's role in movies and play a father's character. Likewise the older political leaders should give a chance to the juniors," he added.
When asked whom he would recommend as the UNP's next leader, the deputy minister said it was too early to name a person and pointed out that a new leader should be named and should take over the party by 2019.
"We should not make the mistake made by the joint opposition by naming former defense secretary Gotabaya Rajapaksa as their presidential candidate. The JO has given its opponents the opportunity adequate time to run negative campaigns against its candidate. We in the UNP named our candidate for the 2015 presidential elections 2015 only in November 2014 and thus Mr. Sirisena was able to avoid much mudslinging," he said. (Yohan Perera)
Video by Buddhi