---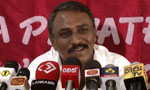 Private bus owners' said today that they would request for an eight percent to ten percent fares hike by July 1 with a minimum hike of Rs.1
"Due to the increment of the Dollar, the prices of all related products and services to operating buses have gone up," LPBOA Chairman Gemunu Wijeratne said.
Bus fares are subject to an annual revision based on a special formula taking into account twelve factors including the rate of inflation, the price of a litre of diesel, maintenance costs and the price of tyres and other spare parts.
"But this time the bus fare revision is to be done excluding the price of diesel because the VAT increase has not affected the fuel," he said.
While addressing the media Mr. Wijeratne said they had officially informed the Transport Ministry, the National Transport Commission and the Finance Ministry in writing about the expected fare increment
He said they also expect to discuss the minimum bus fare for buses in Colombo and suburbs with the relevant authorities.
"The minimum bus fare now is Rs. 9 which we hope to increase by one rupee," Mr. Wijeratne said.
"However, we are in two minds of revising of two requests at the same time," he said. (Chaturanga Pradeep)