---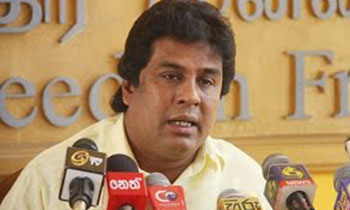 The Janatha Vimukthi Peramuṇa (JVP) should apologize to the people for extending their support in bringing the incumbent government into power and casting their vote in favour of the Local Government (LG) Elections Amendment Bill, National Freedom Front (NFF) deputy leader and MP, Jayantha Samaraweera said yesterday.
He said the JVP, having known the repercussions of bringing a UNP government into power, gave its fullest support to the UNP to form a unity government in 2015 resulting in chaos in the country.
"The other reason why the JVP should apologize to the people is for having cast their vote in favour of the LG Elections (Amendment) Bill to secure a two-thirds majority of the government. This has further delayed the PC elections and violated the franchise of the people," Mr. Samaraweera said.
He said the rumours that were being spread after the resignation of former general secretary Priyanjan Vitharana were absolutely false and added that he had resigned because of ill health. (Sheain Fernandopulle)