---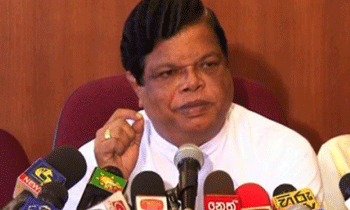 The joint opposition (JO) today said some of its MPs would visit the Inter-Parliamentary Union while some others would visit the Commonwealth Parliamentary Association (CPA) to complain about the intimidation of JO MPs and the delaying of polls.
JO MP Bandula Gunawardana said a group of MPs led by JO national organiser and MP, Dullas Alahapperuma would visit the IPU head office in Geneva this week.
"Another group led by JO parliamentary leader and MP, Dinesh Gunawardena and myself will leave for Bangladesh to complain to the CPA about current affairs and developments which violate democratic values," he told a news briefing.
The MP said JO MPs were being remanded without recourse to bail with their passports impounded which prevents them from travelling abroad to complain to the relevant authorities about injustice.
He said the government kept dragging the parliamentary voting time intentionally, to ensure that it could secure a two-thirds majority.
"Sometimes, the government drags voting till MPs who had just become mothers come to Parliament for voting and debates. This is how it passes legislation," he said.
He said the JO would brief the IPU and the CPA regarding these issues, the delaying of polls for local government bodies and provincial councils, and the alleged doctoring of documents with statistics including that of budgetary proposals. (Lahiru Pothmulla)