---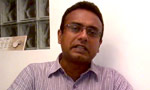 An investigation is currently underway against the Deputy Minister of Foreign Employment Manusha Nanayakkara for his alleged involvement in misleading the public by superimposing a false news item on 'The Hindu' newspaper, to tarnish the political image of Premier Ranil Wickremesinghe, the Daily Mirror reliably learns.
Colombo Fraud Investigation Bureau has initiated an inquiry following a directive by the former Police Chief N. K. Illangakoon, in response to a complaint lodged by then Deputy Minister of Foreign Affairs Ajith P. Perera on August 10, 2015.
The complaint was lodged against the Galle District SLFP MP Nanayakkara after he produced a false document at a live political talk show conducted by a leading television channel on August 08, 2015.
The talk show was attended by MP Nanayakkara, then Deputy Minister of Women's Affairs Vijayakala Maheswaran and UNP Ratnapura District MP Heshan Vithana, the Daily Mirror learns.
At the talk show MP Nanayakkara produces a photocopy of 'The Hindu' newspaper dated July 11, 2012, carrying an article about a statement made by MP Vijayakala Maheswaran to the respective Indian newspaper.
The statement was about a political vow given to her by the then Opposition Leader Ranil Wickremesinghe of handing over the Eelam, once he comes to power.
The police following the initial inquiry have learnt that there was no such news item was published on 'The Hindu' newspaper on the said date as shown by MP Nanayakkara.
Instead, the original paper had carried a news item about a statement made by former President Mahinda Rajapaksa with his photograph on.
An in depth inquiry had revealed that the copy of the newspaper which was shown through the media by MP Nanayakkara was a one that had been superimposed by a false news item on MP Maheswaran and Premier Wickremesinghe.
The Daily Mirror reliably learns through its parliamentary sources that the Colombo Fraud Investigation Bureau had so far recorded statements from MPs Maheswaran and Heshan Vithana with the permission of the Speaker.
When contacted OIC CFIB Chief Inspector P. P. A. Wijenayake said an inquiry is currently underway against MP Manusha Nanayakkara regarding a forged document but denied to give further details.
However, Deputy Power and Renewable Energy Minister Ajith P. Perera speaking from an overseas destination told the Daily Mirror yesterday, that he personally lodged a complaint with the Police Headquarters last year against MP Manusha Nanayakkara and the CFIB had already recorded his statement. (Kurulu Koojana Kariyakarawana)