---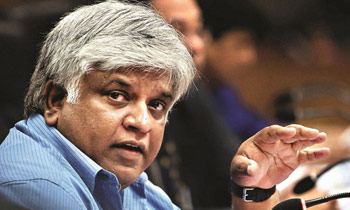 Though China is deeply rooted in Hambantota port, Sri Lanka has three other major ports in Colombo, Trincomalee and Kankesanthurai where India could collaborate for development, Ports and Shipping Minister Arjuna Ranatunga has said.
According to Z News, Minister Ranatunga has said the government was looking at an Asian subcontinent investor to partner with the Sri Lanka Ports Authority (SLPA) to invest and take over the East Container Terminal (of Colombo port) in private-public partnership mode.
"India has shown interest in the East Terminal and Colombo port. Seventy-five per cent of the trans-shipment goes to India. India is looking at getting a stake in Colombo port. There are a couple of private companies that came and spoke, and we will look at them in a positive manner," he has told IANS on the sidelines of an international event held in Dakhla.
According to reports, the state-run Container Corporation of India (Concor) has formed a consortium with APM Terminals B V, John Keells Holdings and Maersk Line to bid for the development of East Container Terminal in Colombo. The total project value is likely to be about $550-600 million.
The South Terminal of the Colombo port is already owned and operated by state-run China Merchant Holdings (International).
Colombo Port is the busiest in Sri Lanka and ranks among the top 35 ports in the world.
Minister Ranatunga said that India is also "very keen" on Trincomalee Port. He said a Singaporean company, Subarna Jurong, is doing a feasibility report on developing the Trincomalee port city, while the Asian Development Bank is covering the port development project.
"India has shown big interest in Trincomalee, as there are petroleum tanks there, and the Indian Oil Corporation has been there for many years," he said.
Lanka IOC, a unit of the Indian Oil Corporation, maintains several oil tanks at the Trincomalee tank farm.
Ranatunga said the feasibility report would be submitted in three months, and the government would take a call after that.
"We shall be calling for tenders. The government will decide," he said, on the sidelines of the Crans Montana Forum on Africa and South-South Cooperation in Dakhla where he also presented a paper.
Asked if China would bid for Trincomalee, he said: "I think China is very much settled in Hambantota. China Merchant Group has a container terminal in Colombo and they are quite comfortable with Hambantota."
He said Sri Lanka is also looking to develop the Kankesanthurai port in the north. "It is quite close to India. It is not a container port, it will be more for transportation, for cement and people."