---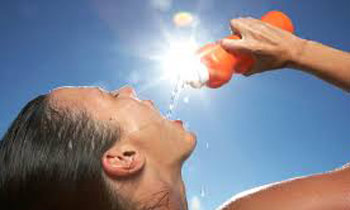 The high temperature in the island may affect the children and the elderly people causing dehydration, the Colombo National Hospital (CNH) warned today.
The prevailing heat had affected people severely causing many health issues, especially skin diseases and eye diseases.
When contacted, CNH Deputy Director Dr. Samindi Samarakoon said that people should take a lot of fluids to prevent dehydration.
She also advised people to avoid exposure to direct sunlight.
"As this is the festival season the high temperature could affect children and elderly people more as their endurance levels are less.
"We have informed the general public to be cautious on dehydration symptoms and use liquid foods more and to maintain the water level needed to the human body," she said.
Further she said that this is a normal situation during this period should not make unnecessary fear as this could easily prevented by maintaining minimum water amount need to the human body.
Increased thirst, dry mouth, tired or being sleepy, decreased urine output, headache, dry skin and dizziness are dehydration symptoms and public is warned to be vigilant on the symptoms and to follow medical instructions. (Thilanka Kanakarathna)