---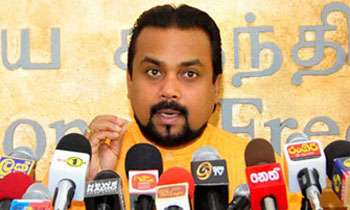 The incumbent government was anticipating a Sinhala-Muslim clash in the country so that it would pave the way for them to fulfil the promises made to the Tamil National Alliance (TNA), National Freedom Front (NFF) Leader Wimal Weerawansa said today.
Addressing a news briefing, he said it was evident that there was clear political hand behind the Digana incident and added that it shows how the government was plotting to create turmoil between the Sinhala and Muslim communities in the country.
"Prime Minster Ranil Wickremesinghe is now forced to fulfil the promises he made to the TNA. They always want to see the country in a crisis," MP Weerawansa said.
"Therefore, it is obvious that there was a political motive behind the recent incident in Mawanella where several statues of the Lord Buddha were damaged," the MP added.
Meanwhile, referring to the remarks made by Minister Ranjith Madduma Bandara that there was no coup to assassinate President, he asked how the minister could be so sure of his stance when the investigations into the alleged coup were still underway. "This raises a suspicion in my mind when he says this with such confidence although the police have not yet ruled out the possibility that a coup had been planned," the MP said. (Sheain Fernandopulle)
Video by Janaka