---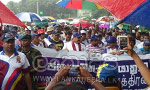 Gampaha Magistrate Kavindaa Nanayakkara today ordered the Joint Opposition's Paada Yathrawa to march on the left side of the Colombo-Kandy road from Kalagedihena to Kirillawala next Sunday (31), so as not to inconvenience the public.
The Magistrate made this announcement when the Gampaha Police informed him that law and order could be breached due to four political events taking place (the Joint Opposition's Paada Yathrawa march, the recruitment of new members to the UNP, the restructuring programme of the SLFP and the commemoration of the Rathupaswala clash) in Gampaha on the same day.
The Magistrate also ordered the Assistant Superintendent of Police (ASP) to make arrests if the attendees of any event were caught breaching law and order during the events.
The Magistrate requested that the other three events take place an hour after the beginning of the Paada Yathrawa. (Thilakarathne Dissanayake, Tony Karunanayake)