---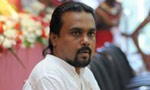 If a new party was to be formed in the future, it would be under the leadership of former president Mahinda Rajapaksa, National Freedom Front (NFF) Leader MP Wimal Weerawansa said today.
Addressing a media briefing, MP Weerawansa said the party would be guided by Mr. Mahinda Rajapaksa and all others including former minister Basil Rajapaksa, would be of equal standing."If a new party is formed under the leadership of Mr. Mahinda Rajapaksa, we will be a part of it," he added.
Meanwhile, MP Weerawansa said the government's move of bringing in a new amendment to the constitution composing of fifteen drafts would devastate the country. "The government is attempting to pass the new amendment to the constitution with a 2/3 majority," he added.
He also said the fifteen drafts included the Banking Act, Seed Act and the National Security Act. "These drafts would create separatism and racism. The people should oppose this move at all cost," he added.
He said NFF have warned the people even before this of such moves by the government and their predictions had become reality. He also said it was their responsibility to inform the public of the dangers posed by such moves.
He said the NFF would conduct seminars islandwide to make the people aware of the government's actions. (Kalathma Jayawardhane)
Video by Richan