---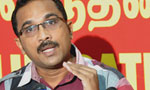 In fresh disclosures on the South Asian Institute of Technology and Medicine (SAITM), the JVP today alleged that the private medical college had bribed some of the members of the sub-committee appointed by the oversight committee which recommended that it should be converted into a public-private partnership.
The committee report was submitted to Parliament earlier this month.
JVP MP Bimal Ratnayake told a media briefing last morning that some of the sub-committee members had accepted monetary gifts from the SAITM management and that close relatives of several MPs in Parliament were studying there.
He pointed out that at least six senior dons teaching in the school had not passed their medical degrees and SAITM's Medical Director who was qualified aboard had not passed the ACT 16 exam. "Against this background how can he hold such a post," the MP asked adding that the qualifications of school's clinical coordinator were also questionable because the Australian Medical Council had cancelled his registration.
"Despite the Sri Lanka Medical Council repeatedly stating that SAITEM is illegal, the former higher education minister S.B. Dissanayake had blundered by issuing two gazette notifications giving degree-awarding status to SAITEM. Mr Dissanayake originally issued two gazette notifications in September 2013 -- one issued in the morning giving degree-awarding status from 2013 while he issued another gazette notification on the same day giving degree-awarding status to SAITM from 2011," the MP said."Under these circumstances we urge the government to close down SAITM similar to what Bangladesh did to its Science and Technology University."

He said his party would launch another protest campaign against SAITM shortly. (Yohan Perera)
Video by Buddhi