---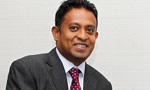 The Ceylon Petroleum Corporation (CPC) and the Indian Oil Company (IOC) were to form a joint venture to operate oil 84 tanks in the upper region of the Trincomalee Oil Tank Farm, Petroleum Industries Minister Chandima Weerakodi said in Parliament yesterday.
Mr Weerakodi, replying to a question raised by Chief Opposition Whip Anura Kumara Dissanayake under Standing Order 23 (2), said the Cabinet had already approved a paper submitted by Prime Minister Ranil Wickremesinghe to this effect.
He said project would be carried out according to an action plan of the government and within a stipulated time-frame.
The minister said 30 tanks would be renovated at a time under the project.
According to a report submitted by a team of engineers, some tanks could be re-used after minor repairs were done. The team had also recommended that gantries should be constructed so that oil could be filled to browsers and trains.
The report had stated that development could enhance the storage capacity of the complex to 90,000 metric tonnes. (YP)