---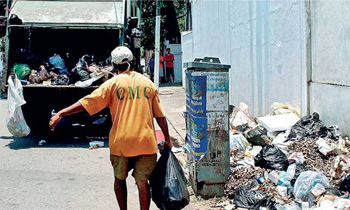 The Kesbewa Magistrate today granted permission to the Colombo Municipal Council (CMC) to dump garbage collected from Colombo at Karadiyana in Piliyandala on a temporary basis.
CMC Commissioner V.K. Anura said the CMC would dump garbage not only at the Karadiyana but also at several other places.
He refused to reveal the exact locations where garbage would be dumped saying it would provoke the people in the respective areas against the move.
He said the CMC would begin dumping garbage from today.
Earlier, the Government said it would temporarily use Karadiyana and Dompe to dispose garbage collected in Colombo.