---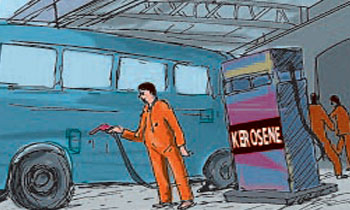 A number of passenger transport buses were found to be using kerosene instead of diesel by an investigation team of the Ceylon Petroleum Corporation, sources said.
The study has disclosed that there was a tendency among the bus owners to mix kerosene to reduce the running cost of their day to day business.
The CPC is selling kerosene at the subsided price mainly to the fishermen and for use of people living in areas, where electricity is not available.
Sources at the CPC said that the CPC had incurred a considerable loss as a result of this growing trend.
The Chairman of the Private Bus Owners Association Gemunu Wijeratne said there was an increasing tendency in using kerosene mixed with engine oil to operate passenger transport buses.
"This practice create severe environmental problems and cause difficulties in maintaining the vehicles," he said.
He said a similar practice of using kerosene mixed with other types of oil was seen in the north and east during the conflict. (Dayaseeli Liyanage)