---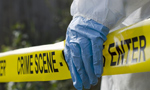 The body of 24-year-old woman was found buried in a fertilizer bag at Paligala, Eheliyagoda yesterday.
The Eheliyagoda police commenced the investigation after a call to the emergency line 119.
The victim, a resident of Digana, was identified as Ranga Lokusinghe. Police said the post-mortem examination is to be held today.