---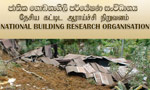 A Bill would be soon passed in parliament making it compulsory to obtain prior approval from the National Building Research Organisation (NBRO) before commencing any construction work, Disaster Management Minister Anura Priyadharshana Yapa said today.
"We are compelled to change laws pertaining to construction as the country is frequently hit by natural catastrophes," he said.
Meanwhile, NBRO Director Asiri Karunamuni pointed out that approving constructions in landslide vulnerable areas were one of the activities his organisation carried out at present. It had become necessary to introduce strict laws in order to avoid future disasters, he said.
Mr. Karunamuni further stated that over 40,000 constructions were approved by the NBRO in landslide vulnerable areas. (Yohan Perera)