---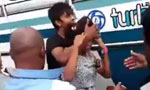 A video showing a group of people assaulting a young girl and a boy who had come to Kurunegala to attend the SLFP anniversary celebrations on Sunday has gone viral on social media websites.
According to reports, they were among a group of supporters of an SLFP organizer of the Gampaha District and had got into a brawl with another group of people who had come to attend the event.
The incident later led to a brawl between the girl's companions and those who attacked her.
However, the police managed to rescue the boy and the girl and settle the matter.
The reason for the assault was unknown.
When asked about the incident, Kurunegala HQI said no complaint had been made to the police on any such incident. (Pushpakumara Jayaratne)