---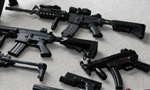 The Defence Ministry granted another amnesty period from May 30-June 17 to civilians to hand over illegal fire arms.
Those who possess illegal firearms can hand them over to the nearest Police Station, District Secretariat or Pradeshiya Saba.
Military Spokesman Brigadior Jayanath Jayaweera said legal action will not be taken against anyone who comes forward and a payment will be made in exchange of the firearm.
The Ministry declared an amnesty period from April 25- May 5 this year. During the period a total of 423 illegal weapons were handed over to the government.