---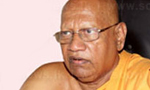 The steps taken by the Wildlife Conservation Department and the environmental authorities regarding the owners of elephants were questionable, Chancellor of the Sri Jayawardenepura University and Chief Incumbent of the Bellanwila Rajamaha Vihara Ven. Bellanvila Wimalarathana Thera said.
He told the media during a meeting to organize the Esala festival that the temples were facing hardship for want of elephants for processions and other religious ceremonies.
Ven .Thera said the environmentalists in the country were at the beck and call of the Western elements and had little knowledge on Sri Lankan culture.
The elephants formed a part of the fourfold army of the ancient kings, but the environmentalists or animal lovers did not point an accusing finger at it. It is sad that the authorities have disputed the possession of elephants creating a serious crisis and the worst affected by it are the religious ceremonies at temples," Ven. Wimlarathana Thera said.
Ven. Thera stressed the need to formulate a national policy on possessing elephants and tuskers or else it would result in serious consequences affecting the Sri Lankan culture. (H.M.Dharmapala and Kusal Chamath)