---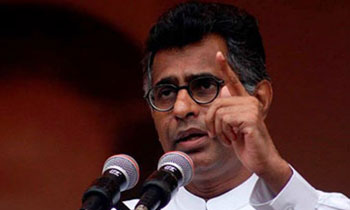 The Jathika Hela Urumaya (JHU) today urged the government to abolish the South Asian Institute of Technology and Medicine (SAITM) without further delay.
JHU General Secretary and Minister, Patali Champika Ranawaka said there was no need to await the Supreme Court ruling and a proper methodology introduced by the Sri Lanka Medical Council (SLMC) to mete out justice to the students who had been enrolled.
He said the students who had the required Z-score should be given proper theoretical and clinical training to become qualified medical practitioners while those with lower qualifications should have the monies paid refunded or they should be assigned to some other positions in the medical field.
The minister said the Neville Fernando Hospital should be acquired by the government and assigned to another state university.
"The Moratuwa University hopes to establish a medical faculty. So this hospital could be assigned to it," he told a news conference. "This issue cannot be resolved on the road. It can only be resolved with the assistance of the SLMC."
He said about 7,000 medical students and about 5,000 students who had completed the final examinations and undergoing clinical practice had boycotted lectures because of the ongoing crisis and added that they should be given priority.
The minister said former president Mahinda Rajapaksa was the main cause of this problem and added that neither Maithripala Sirisena nor Ranil Wickremesinghe nor Neville Fernando were responsible for the SAITM controversy.
"It is Mr. Rajapaksa who has to be blamed. When I objected to SAITM in 2012, he asked me to discuss it with the then higher education minister S.B. Dissanayake. We realised that his plan was to launch SAITM and feel the pulse of the people and then launch three other such universities under Basil Rajapaksa, Gotabaya Rajapaksa and Namal Rajapaksa," he said.
The minister said SLMC Chairman Carlo Fonseka should continue in office at least until this issue was resolved.
When asked whether the JHU raised this matter at the cabinet meeting he said he could not talk about what was discussed at Cabinet meetings.
When asked whether the JHU was opposed all government proposals on this matter, he said they were agreeable to acquiring the Neville Fernando Hospital but were opposed to placing SAITM in the stock market because it was against the good governance to sell education. (Ajith Siriwardana)
Video by Danushka