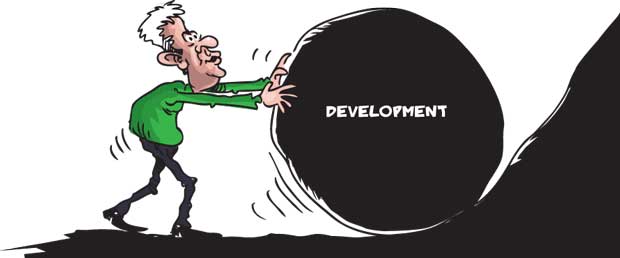 With the virtues of magnanimity and humility in victory, Sri Lanka's newly re-elected Prime Minister Ranil Wickremesinghe yesterday made an impassioned plea for all parties to come together to break the deadlock of confrontational party politics and build a new era of consensus, compromise and conciliation. In the afterglow of a personal triumph where he won a record number of more than 566,000 preferential votes, the Prime Minister said he had a lengthy dialogue with President Maithripala Sirisena soon after the August 17 election results were announced on Tuesday evening.


Mr. Wickremesinghe said President Sirisena had agreed that they should continue the journey which began with the people's revolution of January 8 to build a new Sri Lanka on the values of good governance and democracy, social justice, equality and accountability.
The Premier, in a message to the nation, said that he and the President had decided to call for all parties to come onto a common platform in a spirit of consensual and co-operative multi-party democracy. He pledged that in what he hoped would be a promise-keeping and not just promise-making era, the Sirisena-Wickremesinghe administration in the coming sixty months would give priority and more funds for healthcare and education, poverty alleviation and sustainable development, protecting the environment and giving a bigger place to the youth by providing them opportunities for creative, fulfilling and well-paid jobs.


Giving details of the new economic plan which will focus on rural economic upliftment, the Prime Minister said he hoped all members of Parliament would willingly and sincerely become a part of co-operative Government.
To move towards this vision and goals, several parliamentary select committees, some of them headed by Opposition members, would be set up to give guidance and direction to the national Government. In addition, national advisory councils comprising widely-respected professionals and members of civic action movements would be set up so that the wisdom, knowledge and insights from the whole country could be provided for the new political culture and the era of good governance.



In a major step to bring about equality and a more equitable distribution of Sri Lanka's wealth and resources, the Prime Minister said MPs from different parties would be appointed to head the 22 District Development Councils (DDCs) so that there could be closer co-operation between the Central Government and the district administration. We are now in the promise-keeping era where, as the President and the Prime Minister have often said, the MPs have come forward to sincerely serve the people in a spirit of selflessness and sacrifice.


President Sirisena, talking and acting in the dimensions of a statesmen, had repeatedly told MPs that the bad old days of doing business in Parliament are over. If anyone wants to do business—and in recent years we saw even criminal business—they now need to get the hell out of Parliament and do their dirty work elsewhere. Parliament, in future, and hopefully in the decades to come, will live up to its name of being the supreme legislative and policy-making body in the country, having been given a mandate by the sovereign people to be the just and fair stewards of the country's wealth and resources for specified period. The United National Front for Good Governance (UNFGG) in its five-point plan has promised it would create one million jobs in the next five years. It has promised to open the doors for all, the rich and the poor to have access to the global market and to set up 45 Economic Development Mega Zones, 2500 cluster villages under the 'Gamata Ratak' vision, including agro-clinics, farmers' agri-business enterprises, environmentally-friendly farming, power and energy among other incentives.



With an estimated 70 percent of our people still struggling in a hand-to-mouth existence, and almost five million known to be enslaved in poverty, national poverty alleviation must clearly get the highest priority through what the UNFGG describes as a social market economic development policy. If the Government wants so many millions of poor or middle-class people to co-operate in rebuilding a new Sri Lanka, we obviously cannot preach to hungry struggling people. President John F. Kennedy in a famous call, said, "Ask not what your country has done for you, but ask what you can do for your country". Yes indeed, that must be so but for the poor people to respond positively, social justice must be given to them first.


So the new Government leaders and all MPs cannot rest now. They have hard work ahead. As the well-known poet Robert Frost says, "The woods are lovely, dark and deep. But I have promises to keep and miles to go before I sleep".
---
Add comment

Comments will be edited (grammar, spelling and slang) and authorized at the discretion of Daily Mirror online. The website also has the right not to publish selected comments.

---