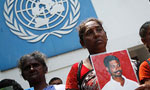 The UN Working Group on Enforced or Involuntary Disappearances (WGEID) will arrive in Sri Lanka on August 3 on an invitation extended by the previous government which had requested assistance on war-time abductions and disappearances, Foreign Affairs Ministry Spokesperson Mahishini Colonne said today.
She said though the previous government had invited the WGEID, no dates had been fixed dates but now this matter had been sorted out and the group will remain in the country from August 3 to 12.
Foreign Affairs Ministry's Communications Director Sathya Rodrigo said the five member group from the WGEID which is affiliated to the Human Rights Council will serve as a channel between the families of missing persons and the government to determine the whereabouts of those who are reported to have gone missing.
A commission led by retired judge Maxwell Paranagama to investigate wartime disappearances was earlier appointed by former President Mahinda Rajapaksa on August 15, 2013.
Media reports said the commission had received 19,284 complaints about people gone missing and among the complaints were 5,000 from relatives security forces personnel.
Speaking on the fishermen's issue, Ms. Colonne assured that as of now there were no Sri Lankan fishermen in Indian custody and neither were there any Indian fishermen in Sri Lankan custody. But she said 46 Indian fishing boats were still detained in Sri Lanka while four Lankan boats were held in India.
She denied media reports Indian fishermen, especially those from Tamil Nadu, had demanded that they be allowed to fish in Sri Lankan waters for at least 63 days annually.
"These are only media reports and they are inaccurate. I don't deal in speculation but no such request has been officially made by Indian fishermen," Ms. Colonne said.
(Piyumi Fonseka)