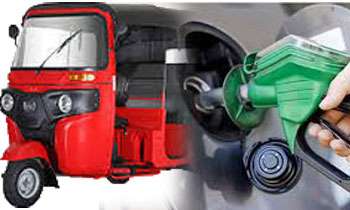 A new petrol type would be introduced only for three-wheelers for low cost by next month, Petroleum Minister Arjuna Ranatunga said.
Speaking to the media at the Ministry today he said, the new petrol had a lower-octane value.
"After I assumed duties as the Petroleum Minister, several major plans had been taken place to make new petrol type, which can be introduced to the market at a low cost," he said.
"The new petrol type will be Rs. 8 lower than the current standard petrol price. This is done to rectify the issues with the three-wheeler industry," he said.
"Several experiments are also underway to make the new petrol compatible with motorcycles, but we hope this will be used for certain old motor bicycles," he noted.
"The Ministry had identified about 100 filling stations countrywide to issue this new petrol type. New pumping machines and tanks have to be installed at the identified filling stations. By next month the new petrol will be in the market," Minster Ranatunga said.
"The Ministry is also hoping to discuss with the Finance Ministry to reduce taxes for this petrol. If we managed to reduce the tax for the new petrol type, we would be able to issue petrol at a very low price than the scheduled eight rupees.
"This petrol type cannot be used in cars. If someone use this in cars, no responsibility would be taken by the Ministry for the damages caused to the engines," he added. (Chaturanga Samarawickrama)