---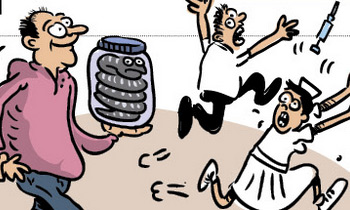 A child, who had been bitten by a cobra, had been transferred to two government hospitals before it could be treated with proper anti-venom for cobra bite, sources said.
Staff of the Nawalapitiya hospital was shocked when they saw an elderly man carrying the sick child along with a huge cobra in a plastic container.
The elderly man said the child was bitten by the cobra and that he had brought the snake as well to make it easy for the doctors to identify the serpent.
The doctors at the Nawalapitiya Hospital referred the child to the Kandy General Hospital following preliminary treatment.
The child, a resident of the Laxapana area in Ginigaththena, had been bitten by the cobra when he was playing about near the house.
His parents had left the child to the care of his grandfather and gone to work.
The grandfather, who had heard that in case of a snake bite, it was easy for the doctors if they could precisely identify the snake, had caught the cobra with a noose and brought it to the Laxapana hospital with the child.
The child was first transferred to the Nawalapitiya hospital from where it was transferred to the Kandy General Hospital.
Later, the doctors at the Nawalapitiya hospital called a veterinary surgeon at the Peradeniya veterinary hospital, who took the cobra out of the plastic container, cut the noose and released it into the wild.(Suranga Rajnayake)