---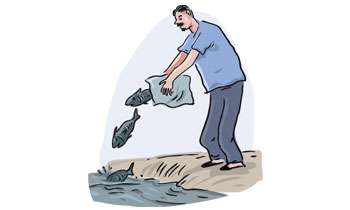 An individual who was planning to entertain a few of his friends and treat them to a nice fried fish preparation had gone to a spot where fish caught fresh from a pond was being sold to passers by.
He did not think twice and quickly purchased 3 fish at the cost of Rs. 400 each for a total of Rs. 1200 from the vendor and made his way back home. Suddenly, he felt a movement in the bag with the fish he was holding and upon inspection that the fish given to him were not dead but alive.
He was now in a quandary as while he was eager to cook these fish for him and his friends, the very thought of killing these poor creatures and having them as a meal suddenly didn't appeal to him any more.
He looked around and seeing a stretch of water that had been created as a result of the heavy rains experienced recently in the area, he released the fish which he had spent so much money to purchase into it and watched the three fish quickly vanish into deeper waters and to safety.
An onlooker who saw this kind deed was overcome with emotion and shed a tear as a result. (Tillakaratna Dissanayaka - Gampaha )