WELLNESS CURATED BY ANSHU BAHANDA
ENGAGE YOUR MIND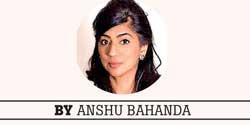 Physical exercise is a universally acknowledged necessity. But let's not forget the workouts our brains crave too. Just as squats and sprints shape our muscles, puzzles, music, and riddles flex our cognitive muscles. As resistance training is to our body, mental exercises are believed to fortify our brain's resilience against age-related decline. The National Institute of Aging (NIA) in America even suggests that a brain-nurturing lifestyle, peppered with deliberate mental challenges, could supercharge our cognitive prowess.
What physical exercises do for the body - cerebral challenges accomplish for the mind. As we lace up our shoes for a jog, shouldn't we also be prepping our brains for its own kind of marathon? The key lies in identifying activities that are both engaging and mentally stimulating.
Activities that Help
"Any kind of activity that can hold your attention. Something that you are interested in will stimulate your cognitive activity. The key is to find your area of interest. It can be reading, writing, playing chess, solving jigsaw puzzles, drawing, creating music- the options are endless," says Vyjanthi Trimal, a Cognitive- Behavioural Therapist and an Assistant Professor at Fergusson College.
Improves Learning Capacity
It's fascinating to consider the tangible impacts of these activities on our learning abilities. How exactly does immersing ourselves in these pursuits influence our capacity to learn and understand?
In 2020, a study was conducted at a girl's school to assess the effects of brain- based learning. It was applied to cater to left-brain and right-brain dominant students, using activities like listening to music and doing crossword puzzles. The experimental class with brain-based learning showed higher concentration and better learning outcomes compared to the class without brain-based learning. The use of brain gym exercises before learning sessions aims to minimise boredom and prepare students for learning. Both experimental classes showed improvement in students' science process skills, but the class with brain-based learning demonstrated better results.
The Power of Music: A Calming Influence
In our current digital age, the relentless barrage of information can sometimes be overwhelming, leading to superficial experiences devoid of depth. Engaging in purposeful activities presents an avenue to imbue our time with meaning.
Trimal explains: "Psychologists these days encourage their kids to take up some kind of an instrument. In a world where we are overstimulated, music can be an excellent outlet. It involves using a large number of motor neurons to identify pitch, rhythm, tone, and melody."
Yoga: Preserving Cognitive Youthfulness
Regular practice of yoga does more than just stretch the body; it weaves new neural connections. Research indicates that yoga can decelerate the ageing process of vital brain regions, namely the hippocampus and the cerebral cortex—both pivotal to memory and information processing.
Lamya Arsiwala, a yoga and meditation teacher, life coach emphasises the significance of breathwork in yoga. "Breathwork has a tremendous positive impact on our nervous system. It gets our parasympathetic nervous system to kick in, which is what helps us feel calm. And when we're calm, we can go about our cognitive functions with much more ease... especially problem solving and decision making." Arsiwala delves deeper into these concepts on an episode of my podcast.
Embracing Mindfulness and Meditation
Building upon Lamya Arsiwala's insights on the profound effects of breathwork in yoga, it's worth exploring another cornerstone of mental clarity: mindfulness. Central to the cognitive playground is the philosophy of mindfulness. This practice champions the art of being fully immersed in the present moment, recognising and accepting thoughts and emotions without judgement.
Drawing from this ancient Buddhist 'monkey mind' concept, renowned yoga instructor, Chitra Supekar, says: "The mind can be equated with a wild monkey- jumping from one thought to another." She believes that through yoga, the mind becomes trained to sync with the breath, momentarily disconnecting from the incessant influx of thoughts, leading to 'ekagra chitta' or focused attention. Supekar further notes that meditation equips the mind with tools to centre itself, drown out distractions, and achieve mental lucidity. With consistent practice, this state of heightened concentration can be summoned at will.
In embracing practices like mindfulness, meditation, and cognitive exercises, we not only fortify our minds against the tests of time but also journey towards a more centred, enlightened, and rejuvenated self.
Listen to the full episode via Daily Mirror Online (Website, Facebook, YouTube, Instagram, Twitter or Threads) or by scanning the QR Code above.