---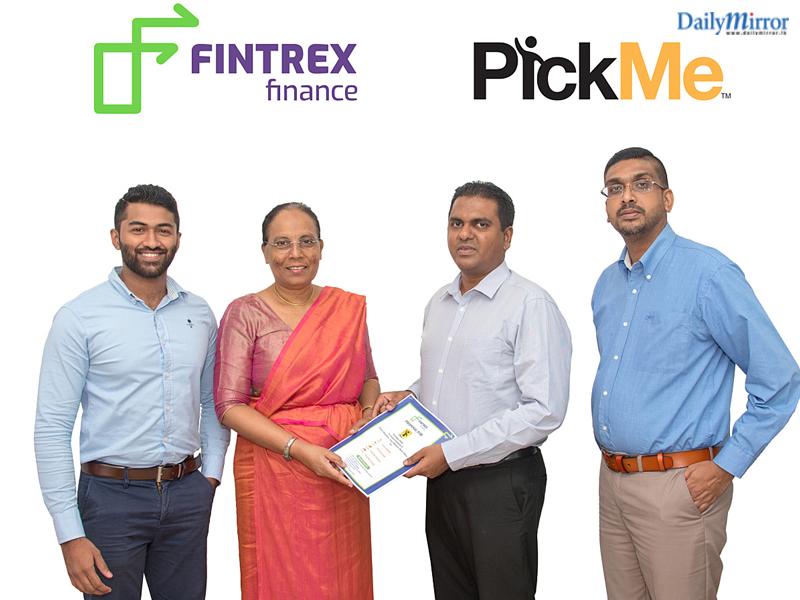 Left to Right - Rifas Mohommed, Tamara Dharmakirti Herath Fintrex CEO, Isira Perera, Chief Operating Officer of PickMe, Lakmal Weerasuriya, Head of Corporate Sales of PickMe.
PickMe, Sri Lanka's leading technology driven mobility solutions provider announced its most recent partnership with Fintrex Finance Limited. In today's fast-paced environment, a "do-it-alone" approach is not the best strategy for growth. Hence, being two fast growing and dynamic companies, this alliance aims to complement their businesses, which will no doubt be a winning combination.
From humble beginnings of just three years PickMe has steadily grown since 2015 having attracted US $ 3 Million from venture capitalists, the highest among all start-ups in the country. The company made Rs. 1 Billion in revenue and achieved profitability in a short period of time.
"The partnership with Fintrex Finance is based on mutual consensus and as two fast-growing and dynamic companies, this partnership could be mutually beneficial to both companies. We have provided employment opportunities both directly and indirectly to hundreds of Sri Lankans and are a leading contributor to the country's economy. Having Fintrex Finance onboard is another feather in our cap in our quest to becoming an internationally reputed company with a truly Sri Lankan identity," said Isira Perera, Chief Operating Officer of PickMe.
PickMe is a 100% local company made to international standards. A homegrown technology driven mobility provider to the nation, the company was founded in June 2015 providing transportation solutions to their customers ranging from trishaws to luxury cars using its smartphone app. The company now has a diverse group of investors which include established Sri Lankan companies and renowned Sri Lankan business-personnel.
PickMe has expanded their corporate portfolio by tying up with 'Fintrex Finance Limited' owned by Bluestone 1 (Pvt) Limited, backed by a consortium of world class investors including global insurance giant Fairfax Holdings, MAS and the Hirdaramani Group.
Fintrex Finance products offering include Finance Leasing, SME Loans, Trade Finance, Fixed Deposits and Savings. Fintrex intends to embrace technology in order to improve efficiencies and cater to emerging business transaction trends and expectations of their modern clients.
The PickMe Corporate Solution offers Paperless transactions, 100% visibility & traceability at economical rates. It also provides a 24 Hours Special corporate support line of PickMe, which allows consumers the ability to access PickMe services from Colombo, Kandy & Negombo etc. There is also an assurance that clients could access and place bookings from all vehicles ranging from Tuks to Mini Cars, Sedans & Vans.
Some of the leading corporates that have entrusted their mobility requirement to PickMe are Sampath Bank PLC, DSI Samson Group, Brandix, Suwaseriya, DFCC, Mobitel, Dialog Axiata PLC, Pership, John Keells, MAS Holdings, Singer Sri Lanka, NTB, Seylan Bank, LOLC, Hirdaramani Group, Standard Chartered Bank, Aitken Spence, Hayleys, HNB, Brandix etc.
PickMe has also launched its newest venture PickMe food, which facilitates customers to order and acquire their meals in record time. The company also facilitates to customers' logistical needs with PickMe Trucks. Furthermore, all these solutions are available on one app. PickMe currently enables the mobility needs of passengers based in Colombo, Gampaha, Kegalle, Kurunegala, Matale, Galle, Kalutara and Kandy districts in addition to providing corporate travelling solutions to Sri Lanka's leading businesses and organizations via its Business Portal.
Speaking on the Fintrex perspective, CEO Tamara Dharmakirti Herath said, "The synergies of both companies have been looked into and our brand identity reflects the team's potential to maximize efforts and unlock value for customers. It signals a clear bias for action, speed and agility. The future road map for Fintrex is to embrace technology in order to improve efficiencies and cater to the emerging business transaction trends and expectations of modern clients and in this respect, we share a common goal with PickMe making our partnership a winning combination."
The PickMe Board of Directors represents a multitude of shareholders and consists of Ajit Gunewardene as Chairman, Conrad Dias (representing LOLC PLC.), Dinesh Rodrigo (representing Interblocks Ltd.), Ruchi Gunewardene (Managing Director - Brand Finance Lanka) and Jiffry Zulfer who is the CEO of the company, managing its day to day operations.