---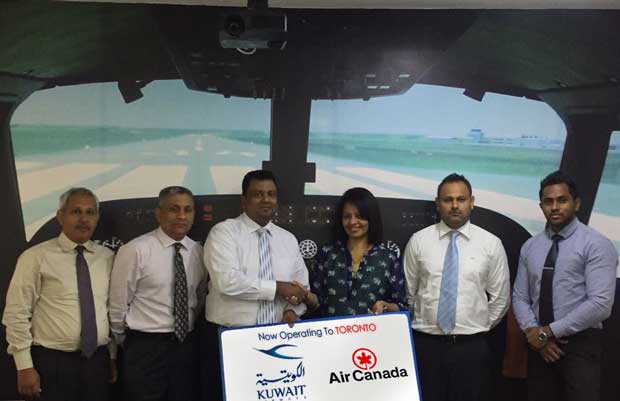 Kuwait Airways, the national carrier of the State of Kuwait has tied up with Air Canada, the flag carrier of Canada to operate almost daily flight services to Toronto, Lester. B Pearson Airport.
Toronto is Canada's largest city, the fourth largest in North America, and home to a diverse population of about 2.8 million people. It is also the global center for business, finance, arts and culture and is consistently ranked one of the world's most livable cities.
The partnership between both Kuwait Airways and Air Canada will be able to offer passengers more flexible, hassle-free very convenient options,on all Kuwait Airways flights between Colombo and London. Canada's national carrier Air Canada operate daily flights from London Heathrow to Toronto as such passengers can enjoy true Canadian hospitality on their Trans-Atlantic flights. SriLankan passengers with valid Canadian visas do not need a transit visa to the UK which is a great convenience.Also. Passengers are given the flexibility to travel to Toronto and return from New York which is a prime destination that Kuwait Airways operates.
Passengers flying to Toronto will enjoy very convenient travel connections with Kuwait Airways brand new A330 flight's from Colombo departing at 02:55HRS in the morning, arriving in Kuwait at 05:50HRSand connecting to London at 09:45 a.m.to arrive at London Terminal 4 at 14:45HRS. The flight to Toronto departs at 18:00HRS from terminal 2 and arrives in Toronto at Terminal 1 20:35HRSon the same day.
The introductory fares are very cost effective to the passengers as the One-Way Economy Class Air Fare starts from Rs. 76,500 and the Return Economy Class Air Fares starts from Rs. 128,000 during the low season. All Toronto excursion fares are valid for 06 months and combinations of low and high season fares are permitted. Business Class return Air fares start from Rs. 335,100. Kuwait Airways operate Airbus A33-200 aircraft from Colombo &and operate brand new Boeing 777-300ER Aircraft from Kuwait to London. Whilst the London-Toronto flight operates with Air Canada's state of the art
Boeing 787.