---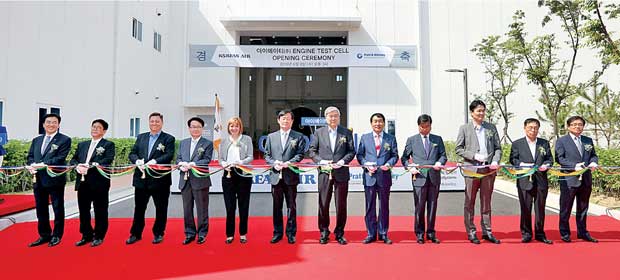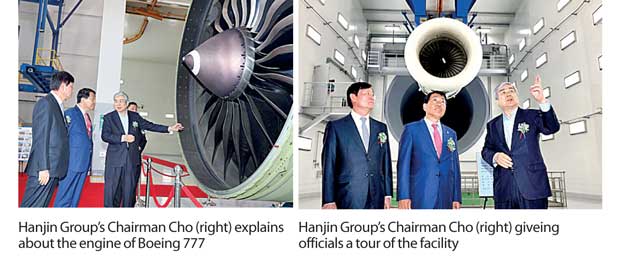 One of the world's largest and most advanced aero-engine test facility has opened in Korea and the Incheon Aviation Tech Co. LTD (IAT), which is a joint venture between Korean Air and aerospace manufacturer Pratt & Whitney (P & W), held a commemorative event in Woonbuk-dong, Joong-gu, Incheon on June 8 to celebrate the opening of the ETC (Engine Test Cell), which is the first phase of the 'Plane-Engine Maintenance Center' project.
Hanjin Group Chairman Cho Yang-ho; Incheon Free Economic Zone Commissioner Lee Young-geun; the Director of Seoul Regional Office of Aviation and Incheon International Airport Corporation's CEO Chung Il-young; attended the event, along with around one hundred other officials.
"I appreciate the generous support of all the stakeholders who were involved in completing this engine test facility, which is equipped with the world's best high-tech amenities. We are now fully prepared to perform the highest quality engine tests," Cho Yang-ho said.
Incheon Aviation Tech Co. Ltd was founded in December 2010, with 90 percent invested by Korean Air and 10 percent by P&W. It is the first Maintenance, Repair and Overhaul (MRO) corporation in Korea, providing aircraft maintenance services, including but not limited to, assembly, disassembly, component repairs and performance testing of engines.
The ETC built by IAT is capable of testing the world's largest engines with a thrust up to 150,000 pounds. The largest and most powerful commercial jet engine in operation is currently that of Boeing's 777 aircraft, which have an extraordinary 115,000 pounds of thrust. The newly opened ETC can test supersized engines, as well as next generation engines being developed.
The second phase of the project is the construction of the Engine Maintenance Plant and once it is completed the business scope of the center will be further expanded to offer total engine MRO services.
Incheon-based Korean Air and IAT will work in partnership to promote the high-tech and high value engine MRO business and eventually establish an aerospace cluster in Yeongjong district in the Incheon Free Economic Zone.