---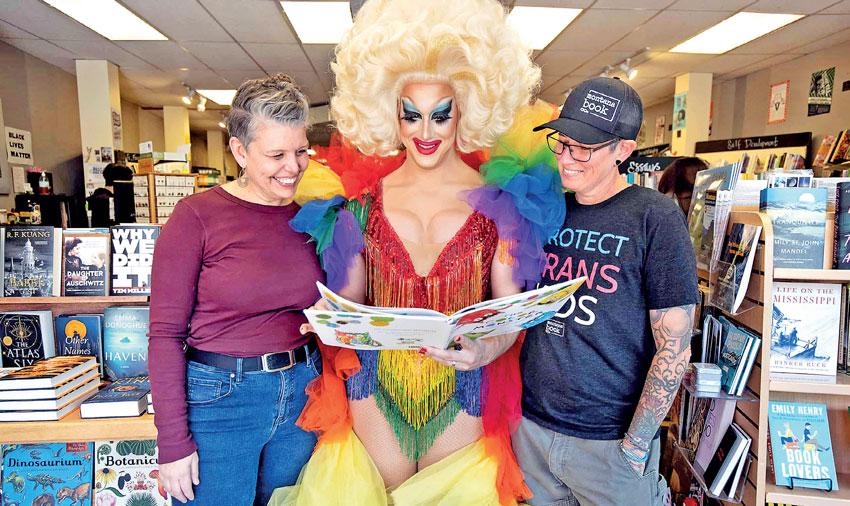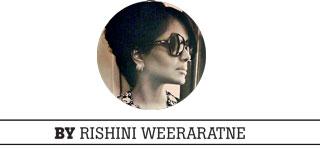 Growing up in Colombo, I was first exposed to the transgender community as a university student. I would return home every Summer and spend two glorious months in the island before returning to London. Almost all holidays in Colombo invariably included a game or two of cricket that I would go watch with my friends at the R. Premadasa International Cricket Stadium. These games were always entertaining affairs, with papare bands playing popular baila tunes accompanied by beautiful transgender dancers attired in colourful, sequin saris or lehengas imitating famous Bollywood actresses. They were always a treat to watch. As a young adult in my twenties, one of my most favourite performances in Colombo were the sold-out shows staged by artist extraordinaire, celebrity chef, Koluu.
'Touch My Party' held at the Oak Room, Cinnamon Grand, to date, remains as one of the most entertaining shows I have witnessed in Colombo. The entire audience was in stitches of laughter throughout the evening, and I don't think anyone in Sri Lanka can perform in drag as well as Koluu does. His comic timing on stage is unmatchable, and I doubt Sri Lanka will see another act like his for a few decades to come. His shows were always restricted to adults over the age of eighteen, and he never promoted any of his performances to children, let alone toddlers! He was, and he remains, a highly respected artist. On this week's article I discuss the on-going global debate pertaining to children's exposure to controversial Drag Queen performances. 
CabaBabaRave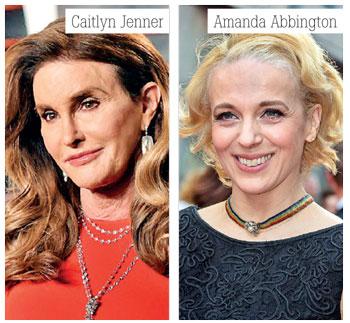 CabaBabaRave was an event promoted and staged in London, as a show for mothers and babies, and was organised by two mothers, who are also former performers. The performance was promoted as a 'Cabaret-Baby Sensory-Rave,' for parents and their children below the age of five, offering a 'little slice of afternoon delight that intersperses cabaret with captivating baby sensory moments before ending in a rave.' The sold-out event featured semi-nude drag performers, burlesque, and other highly sexualized acts. Pre and post promotional trailers and other content material highlighted: (i) a cross-dressing performer doing a handstand on a chair attired in a leopard-print thong and gloves, (ii) a performer in a bondage-style outfit performing acrobatics from a swing suspended from the ceiling, and (iii) a topless woman with rainbow hearts on her nipples, attired in a red thong carrying a toddler. This performance received fierce backlash across the UK and the story dominated headlines for over a week. The event was staged as a part of the Vault Festival 2023, the UK's leading festival of live performances. I took a quick peek at the festival website to see if they have addressed the ongoing backlash. A statement published on the official website states: "Vault Festival is aware of comments on social media directed at CabaBabaRave, part of the 2023 Vault Festival programme. The cabaret show is designed for parents, with sensory moments for babies, and is a fun and welcoming space for parents with young babies. Vault festival exists to support live performance and artistic talent and is proud to platform events that are welcoming and accessible for all, with audience safety always as a top priority."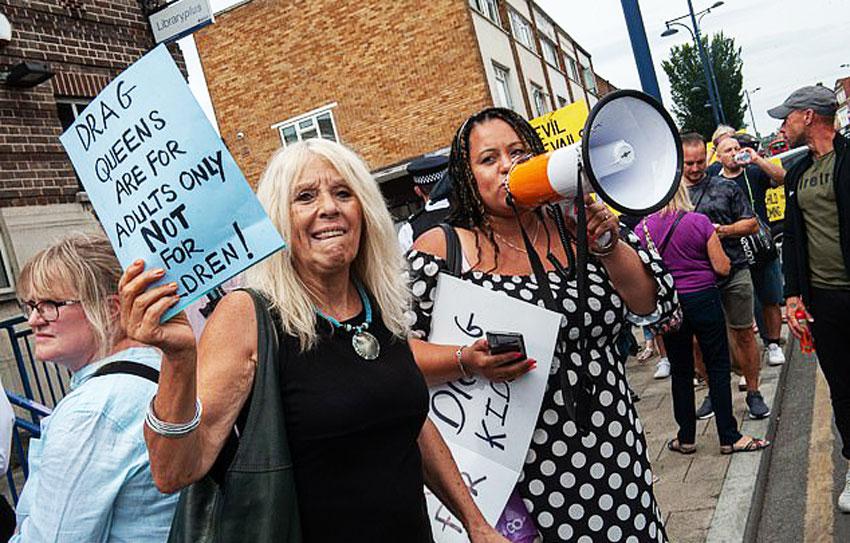 In what universe is this considered educational or appropriate for toddlers and infants? Like I discussed in my article last week, 'Wokeism: A Weapon of Mass Destruction? Part One: Roald Dahl,' do I need to be 'woke' to understand this highly sexualized theatrical performance? If children aren't allowed to enter a strip club, or even a nightclub for that matter, until the age of eighteen, how is it alright for toddlers to be entertained by highly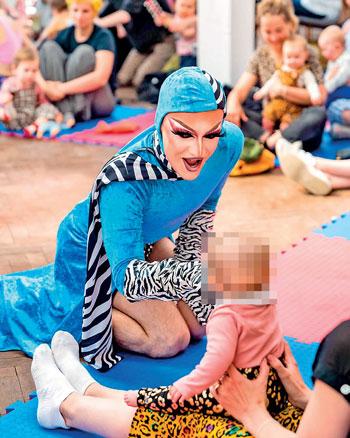 sexualized drag performers? Would you allow scantily dressed erotic dancers or strippers to perform at your child's birthday party? Shouldn't the mothers who attended CabaBabaRave with their children be held accountable for negligence, for exposing young children to sexualized content even before they could memorize their ABCs? Videos shared widely on social media shows a performer attired in bondage harness, wearing knee high boots, performing acrobatic sequences from straps dangling from the ceiling, and another video highlights an artist performing a handstand on a chair whilst wearing only a pair of stilettos and a thong. The performers were also named after various sex acts. Shocked netizens were up in arms after video footage of the event went viral online. 
British actress, Amanda Abbington tweeted, "Nah, I'm really broadminded, but nah. This is not for babies, and if you think it is, there is something fundamentally wrong with you." When supporters of the performance trolled the actress on Twitter and accused her of being 'transphobic,' she responded with a second tweet. "I lost quite a few followers for saying that a semi-naked man in thigh-high boots dancing in a highly sexualized way shouldn't be performing in front of babies and it tells me everything I need to know about where society is heading. How do you not agree with me on this?" Media personality, Dominque Samuels joined the conversation and tweeted, "stop the sexualisation of kids! Absolutely abhorrent. There is nothing 'bigoted' or 'far-right' about protecting the innocence of children, and I will continue to shout from the rooftops about this until something is done." The second performance was subsequently cancelled owing to the public outcry. Supporters of the show expressed their outrage at the cancellation and called it, 'homophobic' and 'lack of diversity and inclusion,' and even compared the event to a Christmas Pantomime. So now we need to expose our children to sexualized content in the name of inclusion? How can we possibly compare a semi-nude adult male performing attired in bondage gear to a Christmas Pantomime artist? What happened to taking children to watch Disney on Ice or Sesame's Street on stage. 
Drag Queen Story Hour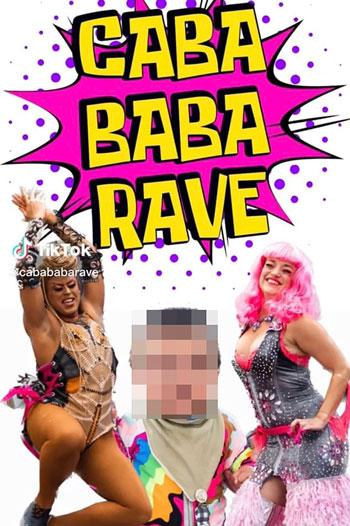 Originally, launched in San Francisco in 2015, this event has been promoted as a 'fun and interactive kids show with amazing and talented drag performers! Drag Queen Story Hour UK wants to show the world that being different is not a bad thing, and by providing imaginative role models for children to look up to, we can change the world book by book!' Seems innocent, one would think reading the event description. But this event too has come under fire by parents and concerned citizens after it emerged that several events have highly sexualized content, including adult males attired in provocative female attire teaching children how to 'twerk.' Critics argue they sexualize and confuse young audiences; and I agree. 
I am not homophobic or transphobic, but if we don't allow a heterosexual female teacher to attend school scantily clad, or a male teacher to perform suggestively in front of a classroom full of young girls, then how is it alright for an adult man to be teaching children how to 'twerk' whilst attired in provocative clothing? Concerned parents have written to their local councils to express their concerns over these highly sexualized events. The letters, coordinated by the Family Education Trust, state, "Drag shows are adults-only entertainment and not suitable for school age children. When we expose children to sexual material, we blur the boundaries between adults and children, exposing them to adult sexual concepts and we risk normalizing the sexualization of children."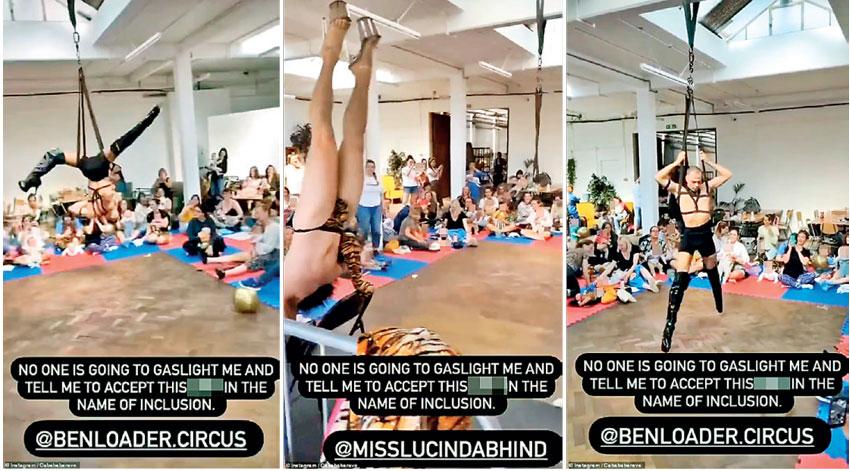 Drag Queen, Aida H Dee, has been the main act at Drag Queen Story Hour events staged across the UK. A play on ADHD, Aida H Dee, has come under fire in the UK for social media posts he has published under his real name, Sab Samuel. In one post, dated April 2019, he shares a vulgar joke about an orgy, and in another dated July 2020, he states that, 'love has no age,' a statement once promoted by defunct organization, Pedophile Information Exchange, in their propaganda material urging governments to lower the age of sexual consent so that adults could have sex with children. Other disturbing content he has published include a picture of a pre-teenager boy and an older man with the caption, 'gay clubs are wild as you can meet both types and be told both are twenty-three years in age.' In what universe is this acceptable? A comprehensive due diligence process is followed prior to granting teachers and other professionals' access to children. Is it then acceptable to overlook an individual's history in the name of diversity and inclusion? Would a heterosexual male teacher with a similar digital media footprint be employed by an educational establishment? Most international companies today investigate a potential employees digital media footprint prior to offering them an employment contract. 

In other reported incidences, several other Drag Queen artists who have been contracted to perform at Drag Queen Story Hour events across the UK have faced severe backlash. An artist identified by his stage name, FlowJob, also known as Nathan Mullen, was also highlighted for sharing sexual content on his social media platforms including footage of simulating a sex act utilizing a sex toy. I simply cannot fathom how these dubious individuals are repeatedly granted access to young children. Would we allow a porn star to teach children Speech and Drama at a school? My mind remains baffled!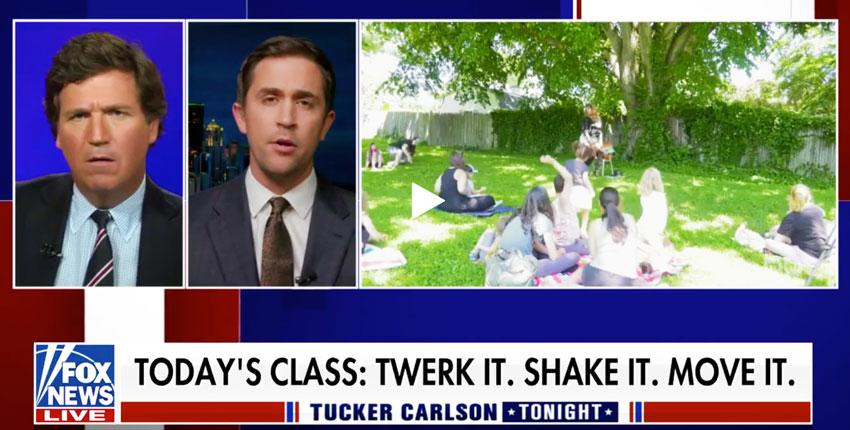 Commenting on the on-going debate, Claire Loneragan from the Women's Rights Network, UK, stated, 'drag is misogynistic and drag performers frequently reduce women to hyper-sexualized, big-breasted, big-haired bimbos. It also gives a very reductive vision of gay men. And even if sexualized behavior is toned down, children are also quite able to look things up on the internet." She further added, controversial Drag Queen artist Aida H Dee, "is not a qualified counsellor. How is he being allowed this kind of access and influence?" British MP Sara Britcliffe tweeted her opinion and referred to the events as being, 'wholly inappropriate.'
Interestingly, it wasn't just concerned parents who were against these events. Popular American Drag Queen, Kitty Demure, via a video shared on social media stated, "I have no idea why you want drag queens to read books to your children. Would you want a stripper or a porn star to influence your child? It makes no sense at all. A drag queen performs in a nightclub for adults. There is a lot of filth that goes on, a lot of sexual stuff that goes on, and backstage there's a lot of nudity and sex and drugs. OK? So, I don't think this is an avenue that you would want your child to explore."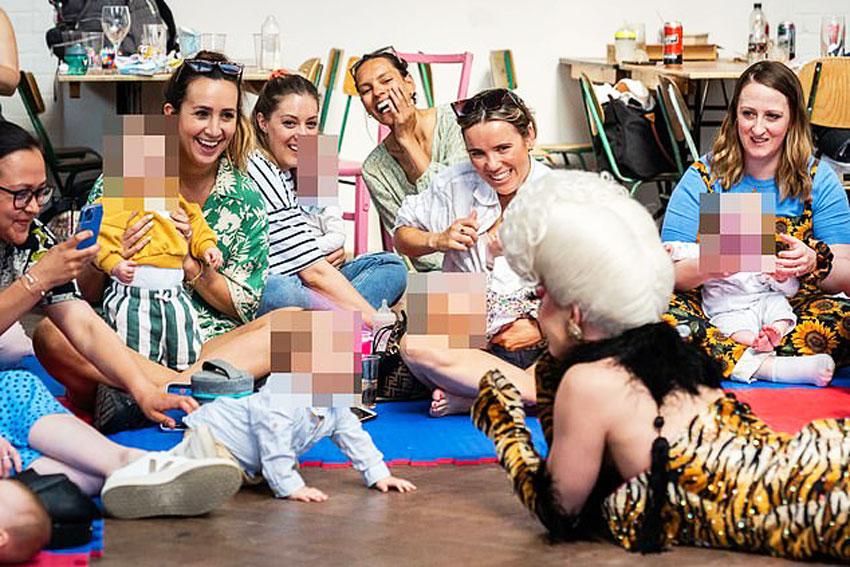 Since the launch of Drag Queen Story Hour in 2015, several other events targeting children below the age of twelve have been held across the US and UK, including shows such as, Bring Baby Drag Bingo, Drag Queen Kids Klub, and Drag Queen Brunch. All these events have been met with protests by outraged citizens. A recent event in Minnesota had a performer dressed in a miniskirt, crop top and high heels flash his male gentilia at a group of toddlers. In another similar event held in California, a Drag Queen scantily attired wearing knee-high boots and exposing much of his buttocks, was filmed teaching a girl child to dance for money. He was caught on camera talking to the child and saying, "look how much money you just made." At another controversial event held in Washington DC, an artist was filmed performing a strip-tease act to an audience of children below the age of eighteen. The list is endless. At yet another Drag Queen Story Hour session held at the Houston Public Library, it later surfaced that one of the storytellers was a registered child sex offender who had been convicted of sexually assaulting a child aged eight in 2008. The library immediately issued a statement apologizing and stated that it "failed to complete a background check as required," thereby leading to a man posing as a drag queen. They further added, "in our review of our process and of this participant, we discovered that we failed to complete a background check as required by our own guidelines. We deeply regret this oversight and the concern this may cause our customers. We realize this is a serious matter." 

Across the Atlantic, in the UK, horrific footage emerged last week from a Drag Brunch organized for parents and children at a South London Pub. The performance at the Honor Oak Pub in Lewisham, South London was horrifying to say the least. In leaked video footage shared widely on social media a Drag Queen can be seen bunching up his mini skirt to do splits and gyrate on the floor wearing PVC boots, whilst a young girl watches on and the adult's cheer. Stories such as these make my skin crawl! I am shocked that responsible parents would allow their children to be exposed to such atrocious acts in the name of being 'woke' and 'inclusive.' There are many other ways to be inclusive, tolerant, and respectful of all living beings irrespective of their race, religion, caste, class, or sexual orientation. There is absolutely no need to expose children to such crude content. We all have a shared responsibility as adults to protect all children and to speak up when we see them being harmed.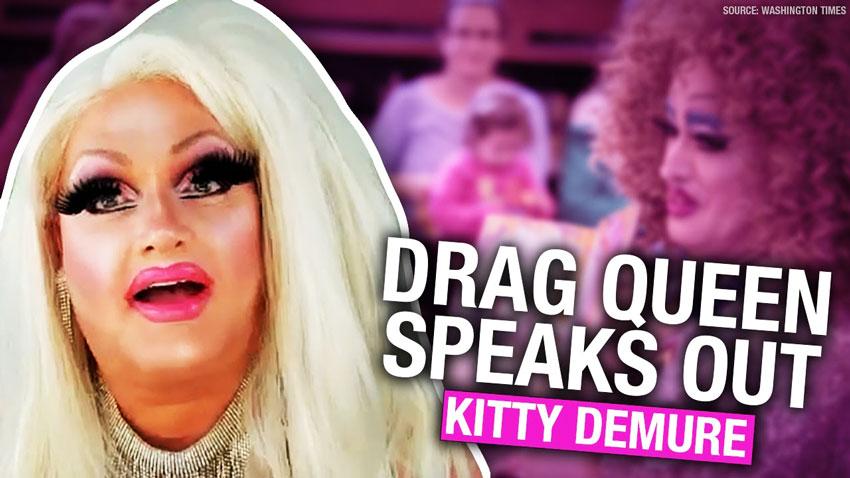 & Juliet
A friend and I recently went to watch the much-publicized West End musical, '& Juliet' one cold wintery evening. Having seen posters advertising this musical across London, we were both quite excited to say the least. '& Juliet' is a musical based on the question, "what if Romeo died, but Juliet lived on," and follows the journey of Juliet and her transgender best friend as they travel from Italy to France. The music was fabulous, and we did enjoy most parts of this musical, however, we both left the theatre that evening quite disappointed. I am all for Girl Power and women being independent and carving a life and identity without being stitched to a man. But what I couldn't fathom was the need for the writers of this musical to strip apart the historic character, Romeo. Romeo, who eventually wakes up and comes to France searching for Juliet, is portrayed as an effeminate man attired in a pink biker jacket and a floral pink backpack. He is made to perform lines that identify him as being a liar, unfaithful and a playboy, insinuating he is incapable of being in a monogamous relationship. Meanwhile, the musical progresses to show Juliet falling in love with a French man who later realizes he is in fact gay and in love with her transgender best friend. Great storyline, modern and in tune with current times, however, what we both couldn't fathom was the Director's desire to rip Romeo apart. Is it now a crime to be a heterosexual male or to be in a heterosexual relationship? What was the need to shred an iconic heterosexual romance penned by William Shakespeare? Would the LGBTIQ community have appreciated if an historic and iconic LGBTIQ story was edited in such a manner? There have been plenty of beautiful LGBTIQ romances captured in both TV and Cinema. Be it the on-going developing relationship between Reese Witherspoon's character Bradley Jackson and Julianna Margulies character Laura Peterson in the popular Apple TV drama, The Morning Show, or the romance between Prince Willem and Simón on the popular teen-drama, Young Royals on Netflix. These are all original screenplays written with new fresh characters that viewers connect with and enjoy watching their stories unfold episode after episode. 
If we are to evolve as being truly inclusive and progressive, we must first ensure there is equality amongst all living beings. Mutual love and respect must be inculcated at a young age. However, this must not be at the expense of one community over the other. I am against the idea of allowing transgender women to compete in women's sports. It's simple biology, men are physically stronger than women, and it's not fair to allow a transgender female to have a competitive edge over cisgender females, even if they have undergone gender altering surgery or medical treatment for many years prior to competing under the women's category. Even Caitlyn Jenner, former Olympic gold medallist, stated in an interview in 2021 that she opposes trans girls participating in women's sports. Caitlyn who came out as a trans woman in 2015, stated, "it just isn't fair, and we have to protect girls' sports in our schools." I personally feel it would be more appropriate to include a third category, male, female, and an open category at sporting events. Have an equal platform for all. That way we also ensure all beings have an equal fair chance of succeeding. Why trample upon female rights in the name of transgender rights? 
If cisgender females are uncomfortable sharing a locker room with transgender females, why force them to accept the situation? Wouldn't it be better to have a third category of locker rooms and washrooms in public spaces? Perhaps it's time the world identified a third gender category? 
New rules enacted in the UK, ban trans women with male genitalia from female prisons in England and Wales. The ban also applies to trans women who are sex offenders or have been convicted of violent crimes and will be applicable irrespective of the individual being in possession of a Gender Recognition Certificate. The rules were established after the case of Isla Bryson in Scotland; a trans woman who was found guilty of two counts of rape before she changed her gender. She transitioned from a man to a woman while awaiting trial. She was initially placed in a female prison but following outcry from the public she was switched to a male prison. Another similar case was that of Katie Dolatowski, a twenty-two-year-old trans woman who was convicted for sexually assaulting a ten-year-old girl in a supermarket washroom, and for filming a twelve-year-old girl using the loo at another supermarket. She too was originally placed in a women's prison and then switched to a men's prison. This brings me back to my comment in the previous paragraph; perhaps it's time the world identified a third gender category? Men, Women and Open. 
Gender Affirmation Surgery 
Another conversation that has been met with fierce opposition across the US recently is the topic of Gender Affirmation Surgery performed on minors. Gender-affirming surgery is a surgical procedure, or series of procedures, that alters a transgender or transsexual person's physical appearance and sexual characteristics to resemble those associated with their identified gender. Progressive treatment that undoubtedly should be freely available to consenting adults. However, should the same treatments be performed on children below the age of eighteen, even with their parents' consent? I personally don't think it should be allowed. Children should be allowed to be free and should be encouraged to be themselves, be in heterosexual or otherwise. They should be allowed to freely decide for themselves after they have reached the legal age of being considered an adult. How is it alright for children to be prescribed puberty blockers when they are merely eight or nine years of age? When a child cannot legally pay and obtain any cosmetic surgery prior to the age of eighteen, how is it alright for a child to undergo gender-affirming surgery?
In an interview aired by Fox News on the 3rd of March 2023, parents of ten-year-old transgender girl Kiernan stated that, "our daughter is ten years old. She started letting us know she was transgender really before she could even speak. She would do things like wear her sister's clothes, pretend that towels were long hair and when she was about three years old, she started to withdraw and become depressed, so we started doing some research." Would a child really know at the age of three what he or she would like to be identified as for the rest of their lives? Children grow up experimenting and going through different phases throughout their childhood years. Haven't we all played with our brother's toys and attempted to dress younger male cousins as girls? Applied make up on their faces and painted their fingernails in pretty colours? I know I have. Long Sunday lunches at my grandma's house always included a performance of sorts rehearsed and staged by us cousins. Being the eldest granddaughter of the family, I took my role quite seriously. I would select which games we all played, which story we rehearsed and performed, which songs we sang and even picked the music we danced to. I would love to play dress up with my younger cousins and would happily dab makeup on the boys without a second thought. Even in school, for one class assembly we had great fun dressing five of our male classmates as the Spice Girls. We dressed them up exactly like each member of the popular 90's girl band, from pretty dresses to wigs and plenty of makeup and taught the boys how to do a synchronized dance act for the song, 'Wannabe.' This was the most popular performance that year. I have friends who went through tomboy phases growing up and only wanted to wear boy shorts and Sri Lanka cricket tee shirts, but as young adults they ditched this look and are today amongst the best dressed ladies in society. Angelina Jolie and Brad Pitt's daughter Shiloh Jolie-Pitt wanted to be referred to as 'Peter' when she was younger. It was reported that she is a fan of the children's classic tale Peter Pan and hence wanted to be referred to as Peter and was often photographed attired in boys clothing.  Fast forward to 2021, Shiloh was photographed attending the 'Eternals' movie premier with her mother attired in a beautiful vintage Christian Dior dress. Shiloh has since then been photographed on the red carpet at various events attired in feminine outfits that confirm her desire to be identified as a girl. Hence, why I believe it's imperative that we allow children to be children and give them a safe space to enjoy their childhood without assuming and making life altering decisions for them prematurely. 
As of end 2022, at least twenty-two states across the US have introduced bills to criminalize or ban access to puberty blockers, hormone treatments and transition-related surgeries for transgender minors. In 2021, Arkansas became the first state to pass the country's first ban on gender-affirming medical treatments for transgender youth. Earlier this month, the Governor of Tennessee signed laws banning drag performances in front of children and restricting medical treatment for transgender youth. The bill prohibits health care providers, "from performing on a minor or administering to a minor a medical procedure if the performance or administration of the procedure is for the purpose of enabling a minor to identify with, or live as, a purported identity inconsistent with the minor's sex." It further states that minors who receive care cannot be held liable but lawsuits could be brought up against parents, "if the parent of the minor consented to the conduct that constituted the violation on behalf of the minor."
Furthermore, this newly signed law also imposes fines on health care professionals who provide the care. 
Wouldn't it be more advisable to allow children to grow up in a safe environment where they will be loved and treated as equals irrespective of their sexual orientation? If they want to dress in a particular way, so be it. If they want to grow their hair or cut their hair, then allow it. If they want to change their names, go for it. Let them explore their personal journey in a safe environment and decide for themselves as adults if they want to undergo permanent, life altering medical treatment. These are choices individuals should be allowed to make as consenting adults and not choices parents should be making on their behalf. 

This is a slippery slope, imagine the number of parents who would explore this option should it be freely available in countries that place a lower value on the life of a girl child? Children will be forcefully transitioned without their consent or a clear understanding. Wanting to include different opinions I contacted Celebrity Chef, Hemalalindre Ranawaka (Koluu), renowned Fashion Designer, Dinesh Chandrasena, leading Child Right's Activist, Dr. Tush Wickramanayaka and popular Psychology Teacher and Counsellor, Shihani De Soysa, and invited them to share their thoughts. 
---

    Dinesh Chandrasena   
Fashion Designer
"Any life altering decision should be made by an adult regarding themselves. Be it diet, cosmetic surgery, gender reassignment, etc. Educated decisions ensconced in forethought based on one's own requirements, ethics and codes can only be made by an adult."
---
  Dr. Tush Wickramanayaka  
Chairperson, Stop Child Cruelty Trust
"The global definition of a child is a person below the age of eighteen years. A child is the most vulnerable member of a community in any country and requires the attention and protection from adults. Any decision made relating to children must conform to the global principle of child protection, in the best interest of the child. Identifying one's individuality can be confusing and challenging, especially during the teenage years. Gender identity for some can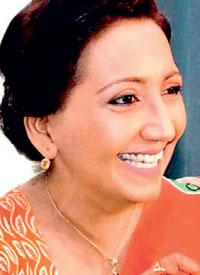 be daunting with the natural sexual curiosity that develops during adolescence. 'Gillick Competence' - is a recognized rule of medical practice when children under the age of sixteen can consent to their own treatment if they're believed to have enough intelligence, competence and understanding to fully appreciate what's involved in their treatment. This is known as being Gillick competent. Otherwise, someone with parental responsibility can consent for them. Whilst some decisions on medical treatment, such as contraceptive treatment, dental treatment, etc. can be made by a Gillick competent child, decisions that affect their lives permanently may not. Let's be realistic, even adults find it difficult to make life changing decisions at the best of times. In a landmark case in UK in 2020, Kiera Bell, a twenty-year-old transgender won a case in the High Court against the NHS Gender Identity Development Service (GIDS) that offered Bell puberty blockers at the age of sixteen years. The court heard, "Bell had a double mastectomy aged twenty, and now regrets transitioning, which has left her with no breasts, a deep voice, body hair, a beard and affected sexual function. She may well be infertile as a side effect of the drugs." Kiera was regretful of her decision and was convinced she was not appropriately counselled before receiving puberty blocking therapy. GIDS, the only NHS transgender service halted all treatment. However, the original decision was overturned by the Court of Appeal, UK in 2021 and the guidance on puberty blockers was quashed. The Court of Appeal ruled that the High Court should not have issued guidance on the Gillick test and puberty blockers because it was, "for clinicians to exercise their judgement," in relation to puberty blocking treatment. 

This historical landmark case has opened a wider debate across geographical borders by rights groups and law makers on gender transformation therapy. Whilst the debate on legal and moral ramifications of a minor making decisions is ongoing, a child experiencing gender distress needs time and support, not to be set on a medical pathway they may later regret. As a mother, physician, and human rights defender, I strongly believe that all decisions made relating to children must be in the best interest of the child."
---
 Hemalalindre Ranawaka (Koluu) 
Celebrity Chef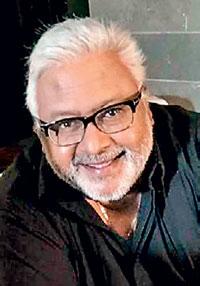 "There are no hormonal differences among prepubertal children," Joshua Safer, Mount Sinai Centre for Transgender Medicine and Surgery, New York City. Therefore, instead of directing children through a specific course of gender transition before puberty, the process of gender development should be supported.  I believe that rather than predicting or preventing who a child might become, it is better to value them for who they are now, including at a very young age.  Once children are older, and if the incompatibility between the sex assigned to them at birth and their experienced gender has persisted, then a discussion of medical transition can occur."
---
Shihani De Soysa
Msc. C.A.M.H, CBT C&A AAC
Psychology Teacher and Counsellor 
"There's a legal argument here which is obvious that children under the age of 18 cannot give consent to a medical procedure. There are exceptions to this in different countries where the child can be deemed Gillick competent where the court decides that the child can make a sound medical decision for themselves. When looking at gender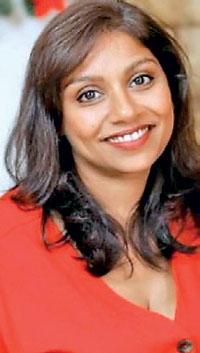 reassignment now better known as gender affirming surgery, as a mental health practitioner, I feel the number one priority should be to ensure that the child is not made to feel like they are irrelevant in this process. Even if they are not able to give consent to a medical procedure, it's crucial that they feel supported and heard through this journey which may or may not end in gender affirming surgery. But a sure way of assuring that a child makes a decision that you don't want them to make, is to say they CANNOT do something. This will only create resentment and distance between parent and child, at a time where a child needs the parents the most. So instead of using language that asserts the parent's authority and power over the child, using an approach that says, "I hear you and I understand, however, there are some things that we need to think about", and using dialogue and open communication with the child might be the better way to deal with this. From all the chats I have had with students one of the main things they say when asked about what they wished parents did differently is, "I wish they just explained that to us." Sometimes, keeping the lines of communication open is all it might take to avoid conflict. Once parent and child are on the same page, the process and what is in the child's best interest becomes the focus and the right steps from seeking a mental health assessment in order to assess for gender dysphoria followed by right next steps all fall into place. 

Hence, in my opinion, the focus needs to be on the child. So, for an example, if it is in their best interest to have gender affirming surgery, and if the law does not allow it until they're 18 years of age, then it is the responsibility of the adults in that child's life to help them cope with the possible stressors that might come with that. Be in through counselling or support groups or being accepting in general."