---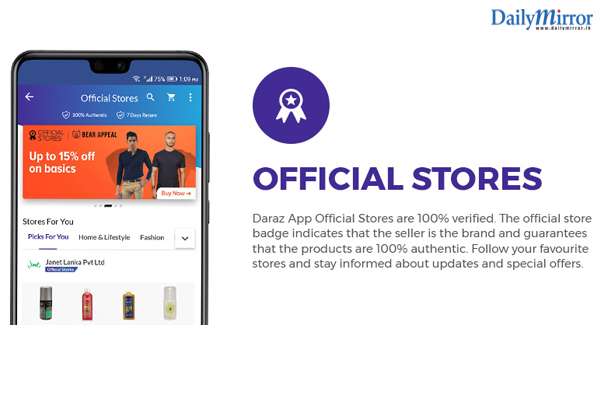 Daraz has made online shopping even more effortless with the launch of its renewed and upgraded mobile app. Key updates include new features and a personalized experience. The new Daraz app is addressed to each user's personal preferences and priorities.
Therevamped mobile appcomes along with brand new features, software and algorithms built from the ground up to ensure every user's journey through the APP is easy, secure, and personalized.
Users can now Search, Find, Shop and Discover more;Top-up your phone. Make a selection from the daily Brand-Vouchers to get discounts. Visit the app's verified Official Stores and follow your favourite brand for updates and special offers. Keep an eye out for the Daily Flash Sales. Add your favourite products to your Wishlist and be notified of discounts. Access Collections specially curated by the app for your eyes only!
The new Daraz App has products customized Just for You. The smart app recognizes the users' tastes, interests and likes and acts like a constant guide in product-hunting and inspiration-finding. With the help of brand new algorithm-assisted features, shopping on the new Daraz APP isn't just about searching 'for' a product, it's about searching around that product too. Every search is a discovery waiting to happen!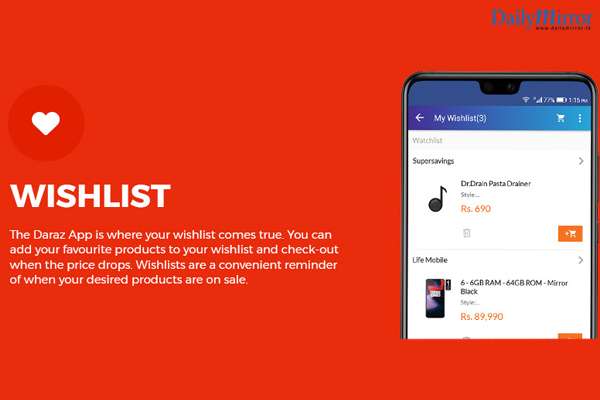 To experience the new Daraz App users can simply upgrade the existing app or download it through Play store of App store.
A guide to the New Daraz App: Party in your pocket
Daraz App Official Stores
Official Stores are 100% verified and approved. An official store badge indicates that the seller is the brand or possesses exclusive authorization from the brand to distribute their products. This guarantees that the products are 100% authentic and duly registered if so required. Customers can now follow their favourite stores and stay informed about vouchers, updates and special offers.
Daraz App Collections
Collections are a curation of products keeping a customer's personal interests front and center. The Daraz app analyzes and reads the customer's needs and wants. If a customer ever showed interest in 'flip flops', they may find a themed collection called 'Eat. Sleep. Beach. Repeat' featuring related items like shorts, sunglasses, sunscreen and Bluetooth speakers, all clubbed together for them to get inspired. Each customer has access to hundreds of unique collections based on their interests. The more they browse on the Daraz APP, the more it gets acquainted with their likes and interests.
Daraz App Daily Flash Sales
The Daraz app has Daily Flash Sales offering big discounts! Customers can now keep tabs on which products are selling out faster than others, track upcoming flash sales and never miss out. New flash sales are added every day - with limited time and stock, fastest fingers take all.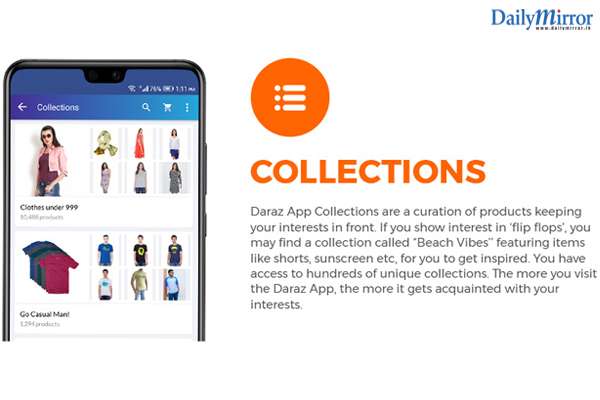 Daraz App Product Recommendations - Just for You
The Daraz app knows the customer's choice – customers can discover products based on their needs and wants under the Just for You section. As the name suggests, from an assortment of 2 million, the selection of products will be unique to every customer's specific interests. The more time a customer spends on the app, the better Daraz will know their choice.
Daraz App Wishlists
The Daraz App is where every customer's wish list comes true. Customers can add their favourite, most sought after products to their wish list and simply check-out when the price drops. Wish lists are a convenient reminder of when your desired products are on sale, so you can shop at the right time, at the best price.
Daraz App Brand Vouchers
The brand voucher section offers new vouchers from brands and sellers every day. Customers can visit the Daraz app to check if their favourite brand is offering a discount voucher which they can use right away or save for later
Daraz App Easy and Secure Checkout
Daraz App has made the checkout process faster and safer. Customers need to enter their payment details once only and enjoy fast check-out with their payment details auto-filled on their next purchase - Daraz App's PCI-compliant best-in-class technology takes care of the rest. Daraz App offers smooth payment with Debit and Credit Card, Bank Transfer and Wallet.
Daraz App Top-Up and E-Store
Customers can Top-up their Prepaid Mobile in seconds online via the Daraz App - whenever and wherever. Daraz gives access to special discounted packages for all relevant mobile networks in Sri Lanka - customers can select the best top-up plan that suits them.
E-Store is a new category on the Daraz app. Customers have access to digital vouchers, games, and event-tickets in one place. The vouchers get delivered instantly via email and most of them come with a big discount. You can surprise your loved ones with great gift like a restaurant visit or a Daraz gift card.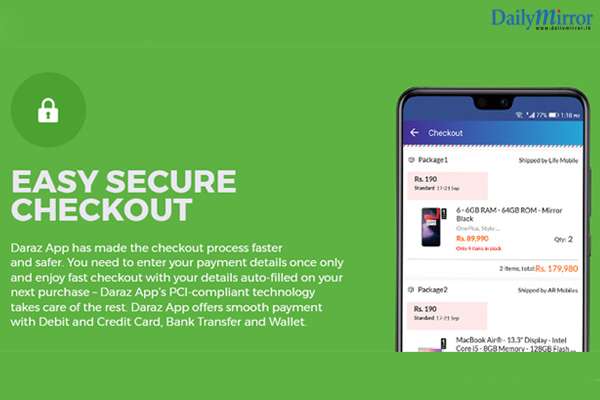 Daraz App QR Code Scanner
The Daraz App now comes with its very own QR code scanner. It allows the App users to scan every QR code out there. Daraz and its sellers will use QR codes for special campaigns, special products or free vouchers, that can redeemed instantly within the app.
Daraz App Easy Returns
The Daraz App now has a very simple refund process. Customers can track and manage their orders online and initiate returns within 7 days of delivery if their product is defective, incorrect or incomplete at the time of delivery. The entire refund process can be managed on the Daraz App with just a few taps.