---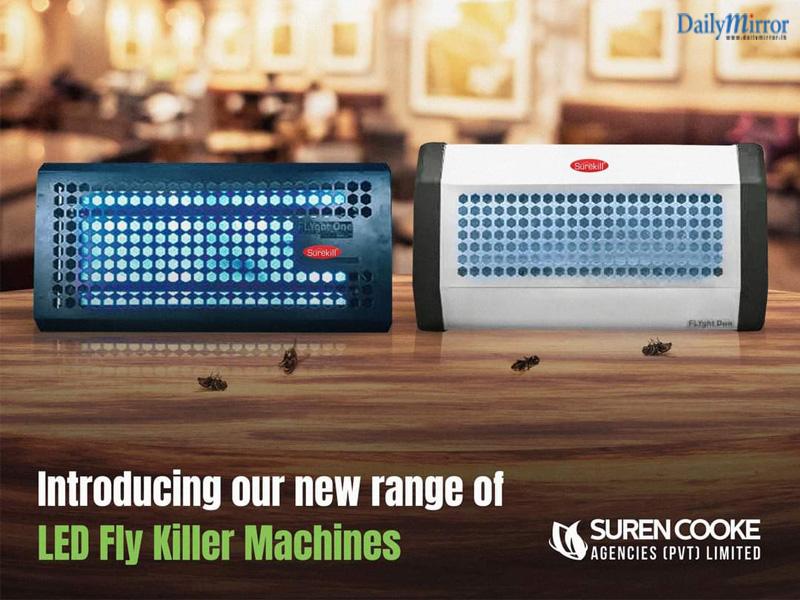 Sri Lanka's pioneering pest management solution provider renowned for using innovative pest control methods - Suren Cooke Agencies now offers LED Insect Light Traps which are efficient and eco-friendly solutions to control houseflies.

Tested and designed in Singapore, these UV LED Insect Light Traps are innovative solutions that encompass cutting-edge light trap technology, efficiency and environmental sustainability, emphasizes the Director, Suren Cooke Agencies, Rajitha Cooke.

Unlike conventional insect light traps with UVA fluorescent tubes, these new products meet improved sustainability as they are developed through extensive research. The units include LEDs to tackle the environmental impact of mercury found in fluorescents. The technology used in these light traps require lowest energy consumption thereby offering 80% cost saving in electricity and subsequent reduction in carbon emissions.

"With the introduction of this new range, we are not only addressing our customer's housefly problems but also reiterating our company's goal to make pest management sustainable," Rajitha adds.

While conventional light traps with fluorescent tubes need regular tube replacement, UV LEDs used in FLYght Duo and FLYght One Insect Light Traps need no replacement up to 50,000 hours and for this reason, the products are cost-effective and user-friendly solutions in managing housefly problems.

SureKill FLYght Duo and FLYght One also carry the patent bioVE+ feature that attracts houseflies by enhancing the intensity of the constant blue glow emitted through the device. This feature works similar to how insects are drawn to the blue glow of the solar UV rays of carnivorous plants, in nature.

These aluminum body fly traps are compact, lightweight and ideal for tight spaces.

Light traps consist of hexagonal entry holes to maximize the catch while the glue boards of the devises are concealed inside to prevent the visibility of houseflies caught inside.
SureKill FLYght Duo and FLYght One Insect Light Traps meet food safety standards making them an ideal solution for use in public places, restaurants, cafes, food factories, hospitals, theatres, retail stores, manufacturing units etc.