---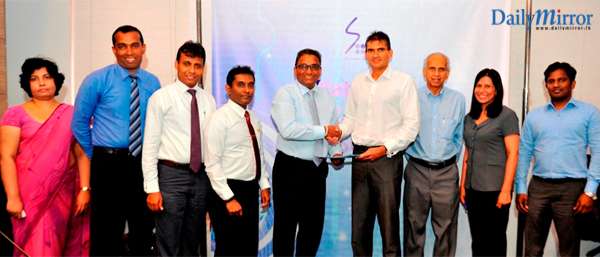 Mr. Kiththi Perera, Acting Chief Executive Officer of SLT and Mr. Pravir Samarasinghe, Group Chief Executive Officer of Mireka Homes (Private) Ltd exchanging the agreement. Mr Imantha Wijekoon - Chief Sales Officer of SLT, Mr Lakmal Jayasinghe, General Manager (Sales – Metro) of SLT, Mr Chethana Attanayake, DGM (Sales – Metro) of SLT, Mr Leslie Ralph De Lanerolle (Director) of Mireka Homes (Private) Ltd., Ms Minoka Fernando (Manager/Legal) of Mireka Homes (Private) Ltd, Mr Prasanna Narangoda of Mireka Homes (Private) Ltd were also present at the agreement signing ceremony.
Sri Lanka Telecom (SLT), the national ICT solutions provider in Sri Lanka was proud to announce its partnership with the BOI approved Mireka Homes (Private) Ltd., to be the Exclusive Telecommunication Service Provider for the Phases 3 and 4 of Havelock City the largest integrated mixed-use development project undertaken in Sri Lanka The landmark agreement between the two companies was signed recently at SLT head office premises, in the presence of respective officials from both companies.
Havelock City, located along Havelock Road, Colombo 05 was envisioned to provide residents a true "City within a City" concept. The project's Phases 1 and 2, comprising of 445 apartments in four towers have already been long completed with residents currently enjoying the unique lifestyle offered by Havelock City, further complemented by the reliable and superior ICT services provided by SLT. As the exclusive telecommunications partner for phases 1 and 2 of the project as well, SLT was responsible for the ICT infrastructure for phases 1 and 2, which covered voice and high speed internet services, IPTV services as well as other IP services as required by residents.
The Phase 3 of the project will comprise of two 28 storied residential towers with 304 luxurious apartments while Phase 4 will comprise of another two 30 storied towers with 340 premium condominiums. SLT will be providing each of these 600+ apartments / condominiums with SLT's FTTH triple play services (voice, broadband, and Peo TV) as well as a PABX system for internal voice communications between the apartments in the residency. Once completed, the residents in each of these new apartments also will have access to SLT's ultra-high speed broadband through the company's fibre-to-the-home (FTTH) connectivity, enabling download speeds of up to 100 Mbps.
Mr. Pravir Samarasinghe, Group Chief Executive Officer of Mireka Homes (Private) Ltd. who signed on behalf of the company, gave his comments on the partnership with SLT, saying, "We are pleased to join hands with the telecommunication giant, Sri Lanka Telecom once again, to connect our luxurious apartment towers to the entire globe via SLT's unmatched FTTH technology. Having experienced SLT's expertise and services in the past with the phases 1 and 2 of the Havelock City project, we are confident that through this partnership we can add value to apartment owners and fulfil our promise to them to provide a unique and novel experience as never before."
Mr. Kiththi Perera, Acting Chief Executive Officer of SLT commented, "We appreciate the confidence that Mireka Homes (Private) Ltd. has placed on us once again by entrusting us with building and maintaining the ICT infrastructure for the phases 3 and 4 of this flagship project. We are excited about this partnership and assure our commitment to continue to provide state-of-the-art ICT services that are on par with global standards via the latest technology and communication infrastructure to exceed the expectations of the apartment owners and take their lifestyles to the next level."