---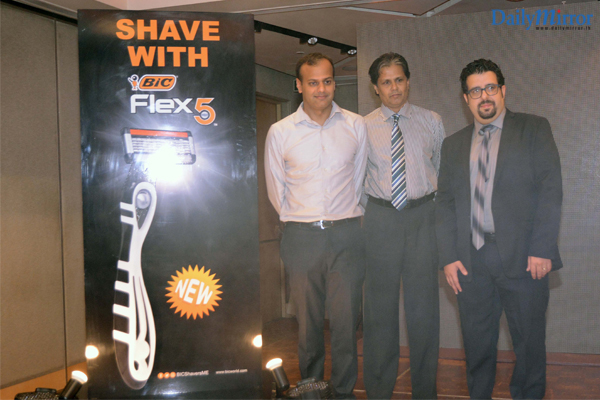 Unveiling of the new BIC Flex 5. From left: Darley Butler and Co Ltd Director Ranjith Bopearatchy, Darley Butler and Co Ltd Director Sanjeewa Gunawardena and BIC Middle East and Southern Asia Shaver Category Product Manager Mina Ishak
BIC Razors, the market leader for disposable razors in Sri Lanka, introduced and launched its state-of-the-art Bic Flex 5, being exclusively a first in South Asia, despite already being launched in the United States.
Founded in 1945 by Baron Marcel Bich, BIC is a French company listed in the Paris Stock Exchange, and is well-known for making disposable consumer products such as lighters, razors, mechanical pencils, and printed paper products. Introduced in Sri Lanka in 1975, BIC products are sold by Darley Butler and Co Ltd, an organisation well known for marketing a range of FMCG categories and brands markets.
During the launch event, BIC also introduced the BIC Flex 3 and BIC Flex 4 which offer similar features to those offered by the BIC Flex 5, as well as two new variants of Bic For Men shaving foam, namely, 'Sensitive' and 'Refresh', were also unveiled to the local market, at the grand launch event held at Hilton Colombo Residencies on March 20th2018.
Making the welcome address, Darley Butler and Co Ltd Personal Care CEO stated: "BIC, the number one razor in Sri Lanka, is pleased to introduce the latest, most innovative state-of-the-art disposable razor from BIC to our market. Today we will also be introducing the BIC For Men shaving foam for the first time in Sri Lanka. We are very confident that the state-of-the-art BIC Flex 5 and the BIC For Men shaving foam variants will make your morning routine an enjoyable exercise with an ultra-smooth shaving experience."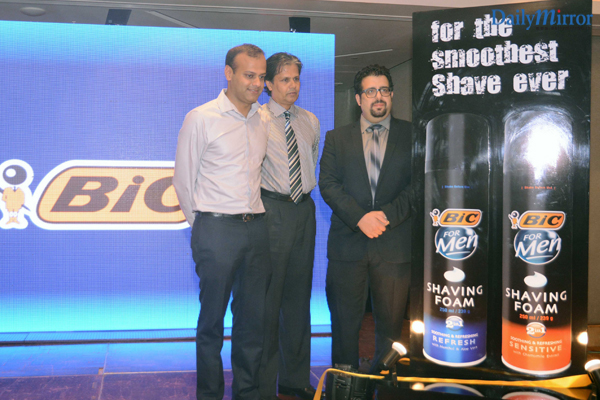 Unveiling of the new variants of Bic Shaving Foam for men. From left: Darley Butler and Co Ltd Director Ranjith Bopearatchy, Darley Butler and Co Ltd Director Sanjeewa Gunawardena and BIC Middle East and Southern Asia Shaver Category Product Manager Mina Ishak
Manufactured in France, the BIC Flex 5 features five flexible blades for an ultra-smooth and close shave, an ergonomically designed handle that provides balance and control as well as a built-in precision blade for precise shaving and styling. Presenting an innovative design, closer and smoother shave, BIC Flex 5 is likely to appeal to a premium market segment in Sri Lanka.
Also addressing the gathering at the launch of the BIC Flex 5, BIC Middle East and Southern Asia Shaver Category Product Manager Mina Ishak said: "We were here two years ago for the 40 year anniversary and we promised that Sri Lanka would be the first market to get the new products of BIC, because we have been operating here for over 40 years where we started with the single blade, the BIC Sensitive, and now we are launching the 5 blade BIC Flex 5- bringing the latest technology in the world to Sri Lanka."
BIC is the market leader in the disposable razor category in Sri Lanka with a market share of over 70 percent. Sri Lanka is a unique market for BIC as it is the only country where BIC is number-one in both volume and value.