---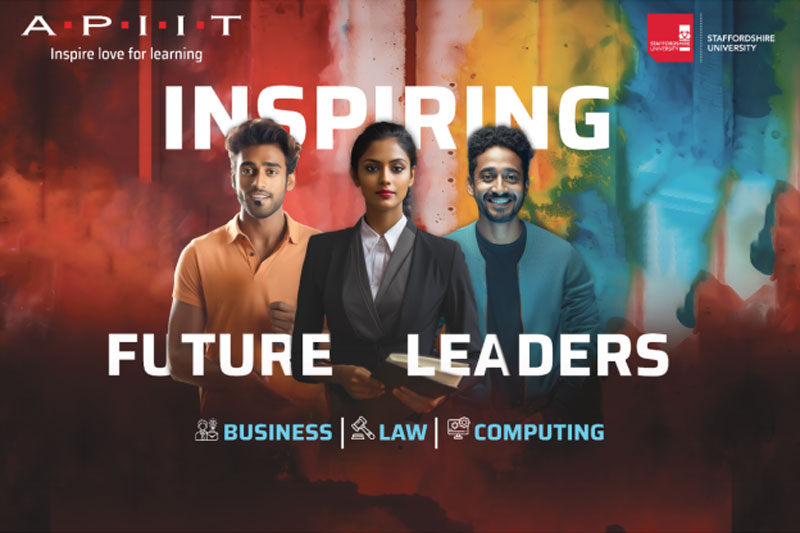 APIIT Unveils Groundbreaking AI Marketing Campaign: Inspiring Future Leaders In the era where technology shapes our future, APIIT stands at the forefront of reimagining education for the leaders of tomorrow. With the recent launch of the Inspiring Future Leaders AI Campaign, the institution has affirmed its commitment to not just preparing students for the world of work, but to mold them into leaders who will reshape and redefine their communities and industries.
Meet the Ambassadors
Leading the charge in this transformative campaign are three illustrious students who have been chosen as AI Campaign Ambassadors:
● Ryan in Business - Envisioning the markets of tomorrow and capturing the essence of leadership, Ryan stands as a beacon for those looking to innovate in the business realm.
● Shayani in Law - With a heart that beats for justice and a mind sharpened for advocacy, Shayani is on the path to setting new benchmarks in legal excellence.
● Shane in Computing - As the digital landscape evolves, Shane stands ready, symbolizing the limitless possibilities of computing and technological advancement.
These ambassadors, more than just representatives, are testimonials to APIIT's mission. They are the embodiment of what the institution envisions its students to be - leaders who inspire and lead with conviction, knowledge, and innovation.
Harnessing the Power of AI
This state-of-the-art campaign uniquely combines the world's most advanced AI technologies. By utilizing AI powered scripting, the lifelike visual representation of AI avatars, and the captivating voice overs , APIIT is crafting an immersive and engaging learning experience for its students. The blend of these technologies not only demonstrates APIIT's innovative approach to education but also showcases how AI can be seamlessly integrated into academic curriculums, leading to enhanced learning experiences. Everything that the audiences are going to witness starting from the digital space to the hoardings, voice overs in the radio, commercials in the TV and even in the magazine / PR ads will be represented by the AI avatars that we have built for APIIT. These AI avatars will be representing the future of APIIT as the leaders who will make a positive impact to the world.
A Journey Towards Leadership
As the world grapples with the challenges and opportunities presented by rapid technological advancements, it is initiatives like the Inspiring Future Leaders AI Campaign that will play a pivotal role in shaping the leaders of tomorrow. APIIT's commitment to leveraging technology for the betterment of education is a clear message to the world: The future belongs to those who prepare for it today. And at APIIT, the journey of crafting tomorrow's leaders is well underway.