---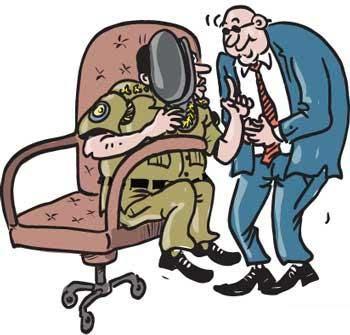 A high-up in the security sector who has already come down from being 'bandu' to 'bindu' due to his unsavory record has reportedly got involved in another scandal!
According to the story that has come through the grapevine, a certain one- time club owner who has got into the construction industry had tried to extort a sizable sum of money from a steel magnate and when the latter resisted, the man had approached his one-time buddy now a high political authority for help.

The political authority armed with a whip hand over heavyweights in the security sector by virtue of his office had immediately entrusted the task of pressuring the steel magnate to his faithful acolyte 'bindu.'

And the 'bindu' had immediately gone into action, they say.

Those who in the know of this story, they say, wonder why this contender for a top post who has already burnt his fingers keep on getting involved in infamous affairs!