---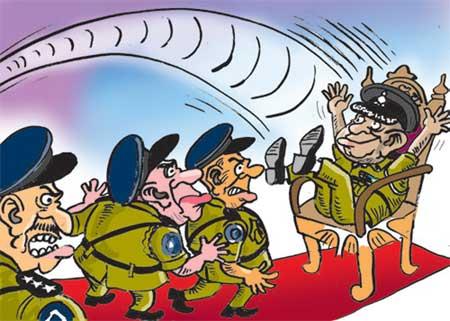 There is a certain high-up who made an effort to secure the main chair of the Khaki department whenever it was about to fall vacant. Just before the third service extension was granted to the incumbent, this ambitious contender had approached two Buddhist monks who are well- known as power brokers often taking a hand in the matter of making political appointments to high posts.
He had told the two monks, "You know that I am a person with a great love for my country and the nation.Please help me to secure the main office in my department…"
The two monks had then asked the khaki highup how they should go about it. He had replied: "Please call on the chief dignitaries of the two main temples in Kandy and impress on them the need to appoint me to the high post…That will produce the expected result…!"
However, the two monks, instead of meeting the two dignitaries in Kandy had met a bigwig at the main government office and sought his advice about the help that the khaki high-up had sought from them.
The bigwig did proffer his advice which made the two monks to completely wash their hands of the matter, they say.
Meanwhile, yet another khaki high-up of 'Jaya…' famehad been so sure that he would get the highest post in the department, he had even thrown a grand party to celebrate the expected promotion! However, the government granted another short service extension to the incumbent dashing the high hopes of both contenders!