---
The news that the main post in the khaki suit department is going to fall vacant shortly has led to a big scramble to secure it by several high-ups from senior ranks in the department, they say.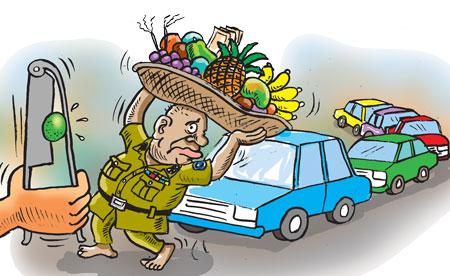 These hopefuls are said to be holding poojas and performing various other rituals at the prominent places of worship of all religious denominations across the country seeking divine blessings! Some of them are visiting Kataragama while some others have rushed to Rajarata and Kelaniya, they say.

By the way, a certain khaki suit high-up, one of the aspirants to the high post, had arrived in the Kataragama Devalaya in a motorcade the other day. Having got down from his vehicle at the Maha Wahalkada ( the main entrance), he had ordered his escorts not to move away the motorcade until his return from devalaya following participating in the rituals!

However, even the distinguished state high-ups including the head of the state would not leave their vehicles parked at this spot well known as a 'no parking area', they say.

Meanwhile, the Maha Nilame of the Devalaya who had come there had lost his temper on seeing the motorcade parked at the Maha Wahalkada. He had immediately looked for the khaki suit high-up responsible for the high-handed act and given him a tongue lashing.

Thereafter, the khaki suit high-up had lost no time in beating a hasty retreat from the Devalaya premises in his motorcade, they say