---
It has become a pastime for many of us to pick holes in the actions of government Diyawanna politicos in particular. That is by the way. Today we propose for a change to make a brief comment complimentary to a top team member handling the subject of fuel.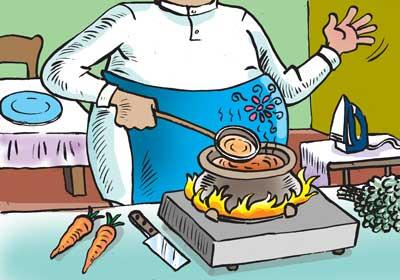 It is known to only a few people that this top team member with a sharp political acumen and wedded to a simple lifestyle once ranked all island first on the GCE (Advance level) pass list!

We have reasons to refer to him as a simple person. Currently his wife is abroad to look after the children who are pursuing higher studies there. Thus left alone at home, he would himself cook his breakfast and the dinner. He would wash his clothes and them iron them himself.

Though he is entitled to have half a dozen Policemen for security of his home, he had opted for the service of only one Policeman.

While working at the Ministry, he would very often get down a Rs. 200 lunch packet from a nearby restaurant. In fact, we wanted to do a feature article touching on, among other things, his simple life style. "Please don't," he
told us.

We have heard that the late Mr. U.B. Wanninayake who was a top team member of the Dudley Senanayake government was a politico who led a very austere and simple life. It is a pleasure for us to place on record that there is a similar simple top team member in the present government as well.