---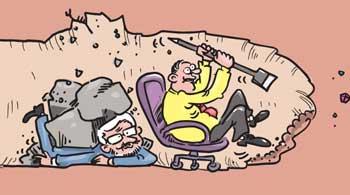 Following the recent 'expulsion' of the state purohita caught smuggling gold and some other valuable items on his return from abroad, covetous eyes are on the top post of a statutory body that comes under the purview of this state ministry.
It is common knowledge that the head of that statutory body is appointed by the state purohita concerned and now that he is gone and a new head for that body is likely to be appointed by his successor, it is said that an ambitious contender has already started pulling strings to secure this lucrative high post!
This contender is said to be a secretarial one of a Pohottuwa strongman currently functioning as the head of a state establishment. He has already approached an influential advisor of Number One, they say.

This character with an infamous record of corruption and malpractices was removed from his earlier position by the former Number One on finding his culpability for a malpractice related to a mining project, they say.
Meanwhile, the incumbent head of the statutory body the ambitious character is eyeing, despite his days are numbered, is said to be busy making new appointments, absorbing employees on contract into permanent cadre and signing new deals!