---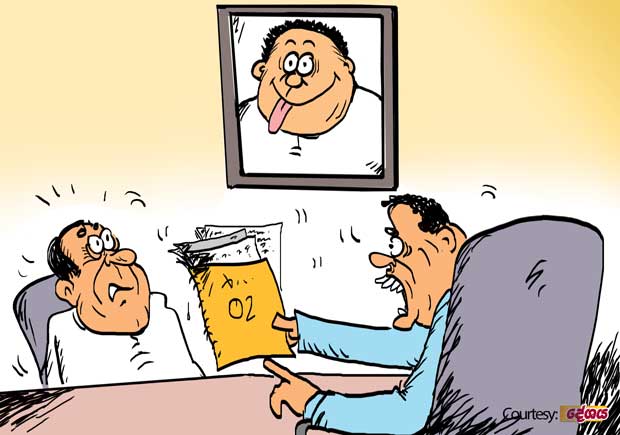 Certain Betel leaf politicos who had allegedly committed grave offences while holding high office in the previous regime are being summoned to a certain Police division for questioning these days.



They say that these onetime bigwigs had to invariably face a large portrait of a certain political leader hung on the wall of the office where they were being quizzed.

Meanwhile, a certain Betel leaf high up of the previous regime who incidentally is holding high office in yahapalanaya as well had to appear at this particular Police division to make a statement.

He also had to face the portrait of the political leader hanging on the wall while answering the questions put to him by the inquiring officer.

As soon as he had walked out after giving his statement, he had contacted a very high authority from the Blue party over his mobile phone. " … I have come here on notice to make a statement. When they were questioning me, I had to answer all the time facing the portrait of this … of our own party. I hope you can imagine how embarrassing it was… Therefore, kindly ask them either to shift this portrait elsewhere or do the questioning in another room…"

Soon after this call, the head of this inquiry office had received an order from a very high authority in yahapalanaya to move the portrait out. Now it adorns the wall elsewhere in the same building where it is no longer a disconcerting sight for the Betel leaf bigwigs summoned here for quizzing, they say.
---
Add comment

Comments will be edited (grammar, spelling and slang) and authorized at the discretion of Daily Mirror online. The website also has the right not to publish selected comments.

---