---
This politico better known for his skills legal than for those political was a deputy under the previous regime. He sensed that the tide was turning against that regime and he had his own reasons also to quit the regime. Meanwhile, he suddenly disappeared from the political scene adding new grist to the rumour-mill.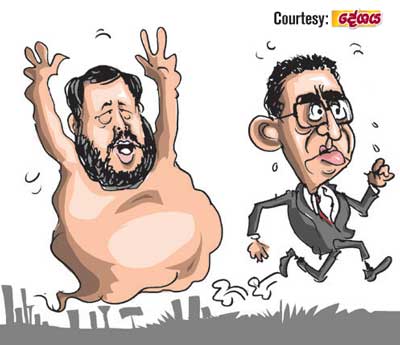 Later it transpired the politico was taking a rest in the City of the Lion. In fact, the politico was trying to make up his mind about his next political move while the ding dong battle for the 'throne' was raging back home.

He returned home to join the winning camp and was later appointed a Minister of State. He felt affronted when his nominees to helm the national airlines and the aviation services which came under his Ministry were overlooked by the Minister at the Cabinet level. He resigned his portfolio by way of giving vent to his chagrin.

The latest reports say that this politico is poised to beat a retreat for the second time. The author of his new trouble is a Deen with a first name that rhymes like 'wizard'. Of course, this one is a political wizard of sorts who made the right political move at the right time unlike the sulking politico who took long to make up his mind.

Deen, the wizard is planning, they say, to encroach the sulking politico's electorate in the city with a view to entering the fray at the coming polls from the Colombo district. And instead of digging in to fight back, the sulking politico has opted to leave the ring, they say.