---
The deposed strongman recently called at the National Hospital to visit his sibling taken ill soon after being remanded.



He was chatting to the sibling in an upstai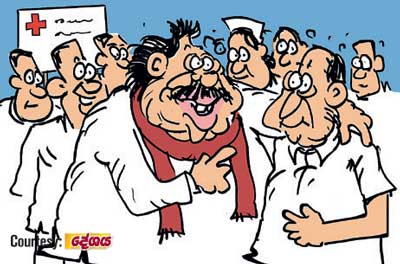 rs paying ward when he heard several rounds of boos from below.

Later the deposed strongman learnt that the person who raised boos was a minor employee of the hospital.

Those who accompanied the former strongman inquired from the employee why he resorted to booing. The employee had replied: "I was not booing at our former boss, but at those exploiting his popularity for their own selfish ends and also those at the hospital who prevented us from extending us greetings to him."

Later the deposed strongman sent for the hospital employee and when he appeared before him he had told him: "Listen to my advice, Sahodaraya. Hereafter don't ask for trouble for yourself by making any noise on my behalf. Now go back to work."

The deposed strongman had given an affectionate pat on the back of the employee in addition to his advice.