---
This character is a betel leaf politico presiding over the affairs of a city suburb. He is also known as a crony of the deposed strongman.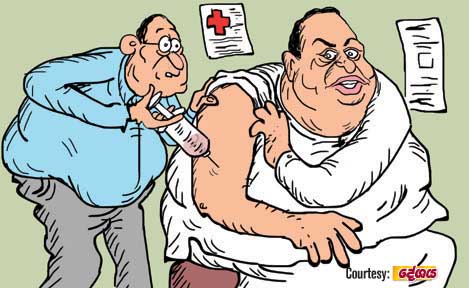 He was taken ill and was hospitalised recently. The doctor, before giving the patient an injection asked him: "May I know whether you are allergic to anything?"
The politico replied with a smile. "I am subject to an allergic condition. But, doctor, it is a political allergy!"

The doctor looked puzzled. "A political allergy? Can you explain how you get it?"

"Okay, I will explain, doctor," said the politico.

"The moment I hear the name of a certain political leader I suffer a seizure causing my hair to stand on their ends and my teeth to clench tight. However, I respond to any medicine administered to me if I don't hear that name being mentioned!"

"Okay, let me know the name," said the doctor.

The politico looked around furtively and whispered the name into the doctor's ear. The good doctor before giving the injection promised the politico not to mention the name of the politician and thus spared him of the feared seizure.