---
A report from the upcountry sacred city reaching Colombo says that a certain provincial high-up had created a stir by commissioning a water bottling plant in this city before the arrival of the chief guest, who was expected to do the honours.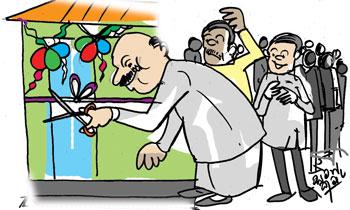 This high-up who once ruled the roost in the central province in a political capacity is currently holding his high office in a different province. But he has made it a habit of gatecrashing into the important functions taking place in the sacred city area claiming that he continues to be the balawatha of the punyabhoomi (The mighty one of the hallowed ground).

The water bottling-plant in question was due to be formally opened by the former secretary of a main political party and this provincial high-up had beaten the latter to it by turning up at the venue earlier.