---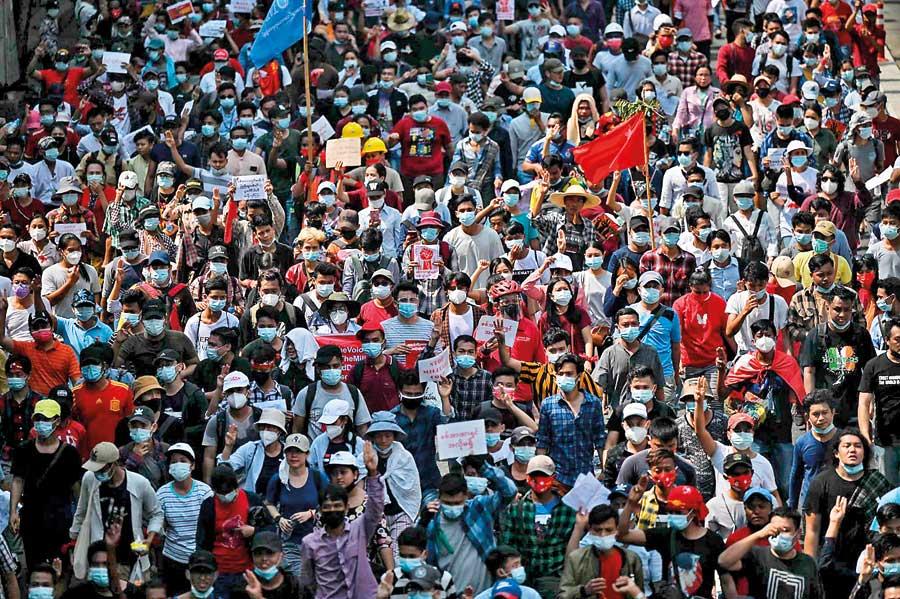 Protesters march in Yangon during a demonstration against the military coup. AFP
The not unexpected military coup which ended Myanmar's nerve-wracking experiment with civilian rule overshadows this week's Covid-19 dominated world news.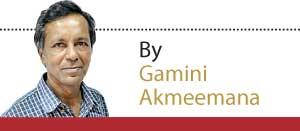 While the militaries of some Asian countries such as Pakistan and Indonesia that took for granted their right to rule have changed with the times, Myanmar's military which ruled the country for half a century are clearly unable to adapt. An uneasy truce in which national heroine Aung San Suu Kyi was allowed to head a civilian government after her party's 2015 landslide victory ended abruptly when the army arrested her and key politicians on Monday and took control of government.

Aung San Suu Kyi was unable to push badly needed economic reforms which would have helped the country's mostly impoverished population. Myanmar's average annual per capita income is only US$1,140 and more than a third of the country's 51 million people live near or below the poverty line. But the population clearly retained their hopes on her as their savior.

The coup couldn't have come at a worse time for the long-suffering people of Myanmar. As apparel exports to the European Union stopped due to Covid 19, factories closed and thousands were thrown out of jobs, with many women taking to prostitution to feed themselves and their children.

Myanmar's army began disrupting access to Facebook as it attempts to stamp out signs of dissent in the days following the coup. Her party the National League for Democracy (NLD) won an overwhelming 396 out of 476 seats in the November 2020 elections. The military clearly could not stomach this, even though the constitution guarantees them 25 per cent of seats in parliament and they control several key ministries, including defense.
They were swift to level baseless charges of electoral fraud, and fears of a military coup were rife in the past two months. Though the army says they intend to rule for one year only, observers fear the worst, especially since Suu Kyi has now been charged with possession of illegally imported walkie talkies, with a possible jail term of two years. This is clearly a move to keep her out of power and disable her from organizing any opposition.

But the Myanmar generals aren't having it all their own way. Even though phones and mobile networks were disabled during the coup, a civil disobedience campaign swiftly got under way. As the protests grew, the army blocked Face book completely, with access to Instagram and WhatsApp, also owned by Facebook, restricted. Facebook is used by 51 per cent of Myanmar's population.
Facebook has been used to coordinate a civil disobedience campaign that saw health workers at dozens of hospitals walk out of their jobs on Wednesday protesting the coup. It has also been used to share plans for evening protests, where residents have taken to their balconies to bang pots and pans, a symbolic act to drive away evil.

But Reuters reported that attempts to block social media were patchy and that some were still able to access the sites. Others turned downloaded virtual private networks (VPNs) to circumvent the restrictions.
Despite the army's attempt to curb discontent, protests have continued to emerge. On Thursday, the first street protest against the military coup took place in the city of Mandalay, where a small group chanted: "Our arrested leaders: release now, release now". The group was dispersed by riot police, the news site Myanmar Now reported.
Messages shared on Facebook prior to the evening protests this week told people to take to their balconies and shout: "We pray that Aung San Suu Kyi is healthy"; "We pray that Myanmar will receive freedom" and, "We pray that the military control will end".

The United Nations has vowed to increase international pressure to ensure the outcome of the vote is respected. "We will do everything we can to mobilise all the key actors and international community to put enough pressure on Myanmar to make sure that this coup fails," UN Secretary General Antonio Gutierres told The Washington Post on Wednesday. "It is absolutely unacceptable after elections – elections that I believe took place normally – and after a large period of transition."

It's doubtful if the UN has any leverage over Myanmar's military rulers, who are backed by China. President Xi Jinping's government, which has done all it can do destroy the pro-democracy movement in Hong Kong, hardly wants to see a stable and democratic Myanmar flourishing under civilian rule. Being fears that under Suu Kyi, Myanmar will take a pro-Western stance even though she has been ostracised by the West over the Rohingiya issue.

Being turns a blind eye to the massive corruption which feeds the military elite of Myanmar. The world had a glimpse of former dictator Gen. Than Shwe's wealth, accumulated through corruption and nepotism, during his daughter's 2007 wedding, when she was seen wearing seven diamond necklaces under her double chin.
Gen. Than Shwe's grandson Nay Shwe Thway Aung is a notorious broker between the military elite and businessmen, feared by business rivals. It's no wonder the people of Myanmar voted overwhelmingly to keep the military and their favourites out of power. But their worst nightmares have come true once again.
Also, the West began castigating Aung Sang Suu Kyi for not condemning the military's persecution of the Muslim Rohingiya minority. Her portrait was removed from Oxford University in 2017. She was dubbed a Myanmar nationalist insensitive to the country's minorities. In retrospect, however, it looks as if she put her country first in a this nerve-wracking game of survival with a paranoid military – if she had chosen to confront them over the Rohingiyas, this coup would have happened sooner rather than later.

What neither the general public nor the politicians in the West can't understand is how people in Asia who want their basic freedoms and democratic rights fear high handed treatment and backlashes from anti-democratic politicians and militaries alike. Myanmar may well be the Zimbabwe of Asia in this regard, but it is by no means an exception. People in the fragile South Asian and South East Asian democracies aren't immune to these pervasive fears.