---
People expect luxuries while in quarantine, officials claim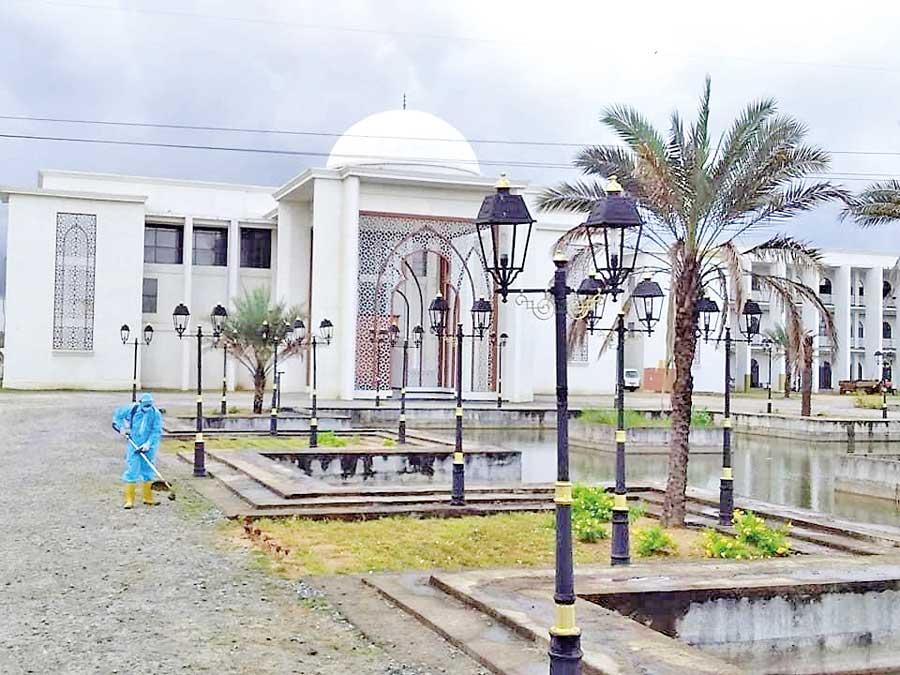 Another video of a patient complaining about lack of drinking water and poor sanitary facilities too went viral on certain social media pages. Some of the claims were that there were no ICU beds at the treatment centre and that there was no medical staff to attend to their needs
Some would switch off the motor or break a tap and complain that there's no water for consumption or for sanitary facilities. We have given them separate bins to dispose garbage but some people would put all waste materials together and complain that the environment is unhygienic. Thereafter they would record everything on camera and post it on social media
The influx of COVID cases in Sri Lanka has prompted authorities to setup new facilities to accommodate patients

with as much facilities as possible. During the initial COVID wave people who had to be quarantined were sent to areas as far as Polonnaruwa and Batticaloa. When space was running out, the Sri Lanka Army converted the controversial Batticaloa Campus as one of the Intermediate Care Centres (ICC). Even though it was subsequently closed down, the sudden surge of cases this year has prompted authorities to utilize the Campus premises once again to quarantine COVID patients. Recently, footage of several patients complaining about lack of basic facilities at the Campus went viral on social media.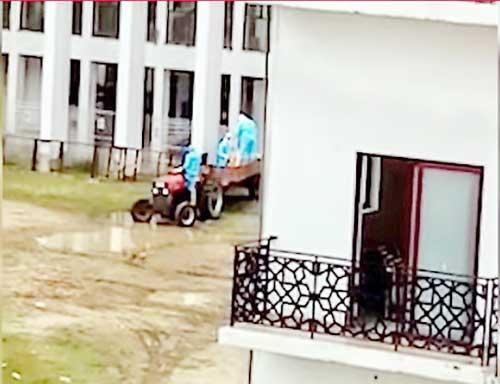 Healthcare workers in the process of shifting a critical COVID patient to another Centre on a tractor. Patients claim that this tractor is used to transport food and other logistical purposes
Patients' complaints
Footage of patients being carried on a tractor at Punani ICC located at Batticaloa Campus was captured on a camera. Patients claimed that it was the same tractor that was used to transport garbage. Another video of a patient complaining about lack of drinking water and poor sanitary facilities too went viral on certain social media pages. Some of the claims were that there were no ICU beds at the treatment centre and that there was no medical staff to attend to their needs.
People with vested agendas in action
Following claims the Daily Mirror contacted Sri Lanka Army Commander and Head of National Operations Centre for Prevention of COVID-19 Outbreak General Shavendra Silva who said that the Punani ICC is now run by the Health Ministry. "But when the matter was brought to my attention I inquired and they are complaining about lack of elevators. Sometime back there was an issue about water. But one has to understand that they are in the Batticaloa District and resources such as water are scarce. The Army is working in the periphery, providing them with food and logistics. It is with the greatest difficulty that we provide them with the facilities. People are expecting luxuries when they are being taken for quarantining but they have to understand the situation. Some people also have vested agendas and they are trying to tarnish the image of the forces and health authorities."
Exercise restraint, health officials request from people
General Shavendra Silva
Even though the Punani ICC is located in the Batticaloa region the operations are managed by the Polonnaruwa District General Hospital. "When there was a sudden influx of COVID cases we had to reuse the ICC located at Batticaloa Campus," recalled Polonnaruwa DGH Director Dr. Sampath Indika Kumara. "There were around 800 patients on that day and how can we treat all of them at once? On that particular day, there weren't many healthcare staff members or doctors on duty. Besides, the patients arrived around 3.00 am and had to be taken from the main entrance to their rooms, they had to be put in separate rooms and all of this was very time consuming. We initiated this process as a source reduction strategy to isolate asymptomatic patients from society."
"So far we have treated up to 8209 patients who have come to Punani Treatment Centres. Out of them, 7270 patients have been discharged. Apart from the Campus there's a separate facility at Brandix premises too. At present there are 600 patients at the Campus and 400 patients at the Brandix ICC. So, the doctors have to attend to around 1000 patients. On the other hand this is quite an isolated area. There's a thick jungle on all sides, elephants frequent these areas and for any person who comes here, it is a different experience," he explained.
"The doctors have to walk from room to room inquiring patients for any symptoms. We sort them out based on the symptoms, co morbid diseases and high risk groups such as the elderly too are being separated. On the other hand this is an Intermediate Care Centre and there's no need for ICUs. If the need arises we transfer them to the Welikanda Treatment Centre which is around 4 km away. The food and other logistics are provided by the Army and that too isn't an easy task. They have to cook food for around 1000-2000 patients. Some people expect luxuries but we are managing with the resources we have."

When asked about lack of water and sanitary facilities Dr. Kumara claimed that those were petty actions by people with political agendas and vested interested. "They would switch off the motor or break a tap and complain that there's no water for consumption or for sanitary facilities. We have given them separate bins to dispose garbage but some people would put all waste materials together and complain that the environment is unhygienic.
Thereafter they would record everything on camera and post it on social media. The Army has so far pumped 138,000 liters of water to these premises. They also claimed that the telephone lines aren't working. How can telephone lines work when they deliberately disconnect the wires? Some people have even looted bathroom fittings and other amenities that were initially fixed during the construction of this Campus," he complained.

Dr. Kumara said that medical equipment including jumbo gas cylinders have been sent to Welikanda, Punani and Gallella COVID treatment facilities. "Once a patient is discharged we have to send them home in an ambulance but we have to manage with 12 ambulances. There are issues in surrounding areas and the ambulances have to be deployed in an emergency. On the other hand healthcare workers are now working on a roster basis at each of these Centres. We anticipate that the requirement for oxygen facilities would increase in the coming few days. So far we have installed a liquid oxygen tank at Welikanda and Oxygen Therapy Units at Punani and Gallella Treatment centres. We also hope to increase the number of ambulances as well. People need to have some empathy and exercise restraint. This is a challenging period and we need people's support to keep up the morale and momentum," he added.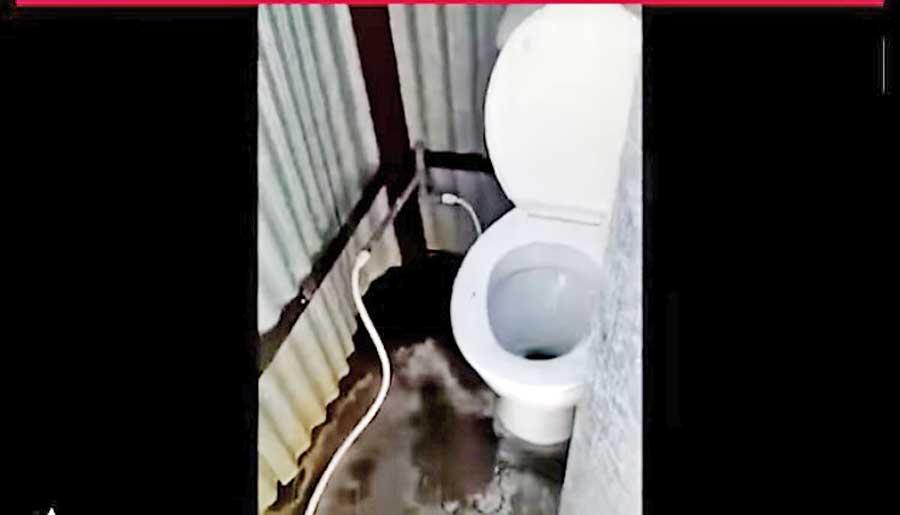 Poor sanitary facilities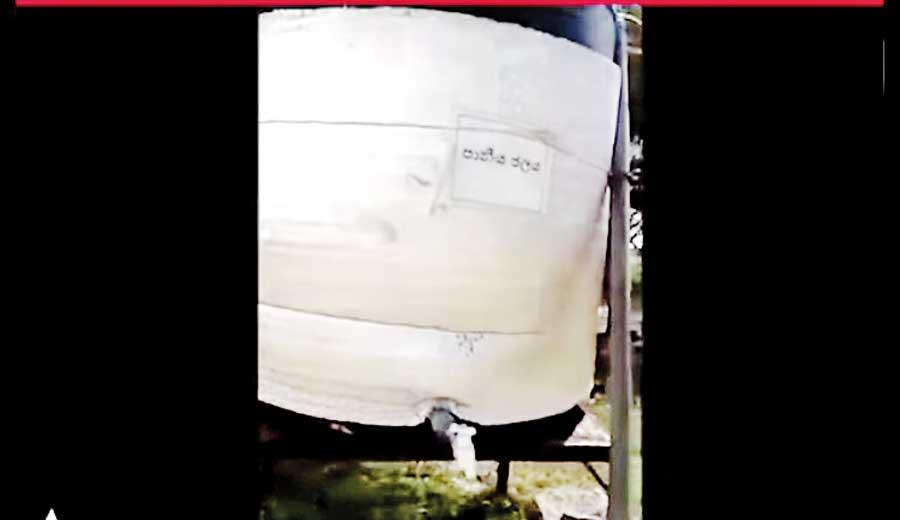 Water tanks installed at the premises but patients claim that there's no water in them