---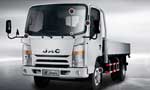 Euro motors As a company constantly focusing on meeting customer need, planning to launch new range of commercial vehicles where JAC customers can obtain new experience with extensive high end truck series. By taking initial steps Euro motors recently launched new models such as JAC 14 feet N-series (new face), Double wheel crew cab & 11 feet double wheel trucks and become most popular & recorded rapid sales growth among them.


2015 identified as "The Year of innovation & customer care" we are also invite our valued customers to be part of this revolutionize product series, by sharing valuable ideas with us by simply sending them to [email protected] & our Face book fan page or simply contacting us over 077 352 2265.


Also to care JAC customers, a series of Service campaigns are organized in JAC Kandy service center on 27,28 & 29th of January 2015 & customers can obtain after sales services & professional support from our JAC service team. To get more details of the same and the appointments please contact us over 077 308 6125.