---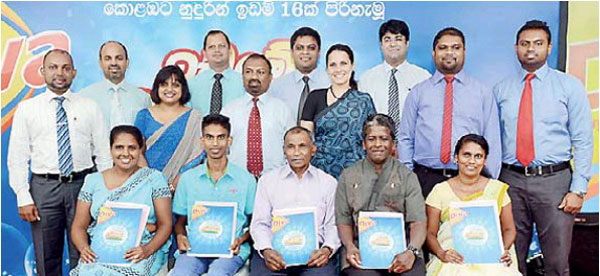 This year, Diva consumer promotion titled 'Idame Vasanawawa' was carried out from May to August.
Five lucky Diva consumers were granted their wish of owning a plot of land close to Colombo. The five lucky winners of the plots of land worth 1 million each are Nisantha Weerasinghe of Udubaddawa; Sameera Sampath of Beralapanathara; P.H Chandra of Thalpe; Sisira Ananda Perera of Kotogoda and R.P.D Rajapakshe of Digana In keeping with the Hemas mission of Enriching Lives of consumers, in addition, to cash prizes of Rs.10, 000 on a daily basis, this year, Diva has generously gifted valuable gold coins to 18 lucky winners. The winners were facilitated during a ceremony held recently at Galarari Hotel.
"As a housewife, when buying my daily needs, I always chose products that are superior value for money. That is why I chose Diva. Through Diva, I was able to save time, effort and money. Today, I have been rewarded with a gift more valuable than all these conveniences. Now I know for certain that I have made the right decision in choosing Diva," stated a land winner, Nisantha Weerasinghe of Udubaddawa.

"I lived more than 8 years in a rented house. My wife went abroad to earn money to buy land. My only child is living in one of my relative's houses. Now with this land, we can live as one family," stated a beaming, Sisira Ananda Perera of Kotogoda, another land winner. "Diva has awarded 16 plots of land over the last four years to its loyal consumers. We feel proud and privileged to be a part of this effort to help enrich the lives of our consumers. This effort is in line with the mission of Hemas PLC. The increasing number of consumer responses we keep receiving year on year is proof that we are connected with our consumers" said Shanaka Fernando, Brand Manager, Diva, Hemas FMCG.

Diva has announced that a similar consumer promotion will be organized in 2015. All loyal customers of Diva are invited to start collecting Diva packages so that they can participate in this popular consumer promotion and have a chance at making their dream of owning their own land a reality.